Vampireology is the true history of vampires, and the 9th book in the "Ology" series, having sold over 16 million copies worldwide.
Originally written in 1900 by Archibold Brooks, the world's foremost protector. Archibold is brutally...
Entangled is the new epic fantasy novel from the bestselling fantasy author Graham Hancock who's previous novels include the non-fiction books "The Sign and the Seal", "Fingerprints of the Gods" and "Heaven's Mirror".
His books have so far sold over 5 million volumes in 27 languages and his reputation has been further...
I can picture in my mind a world without war, a world without hate. And I can picture us attacking that world, because they'd never expect it
Yes this is a flying hover car, not only does it work, it can take passengers too:
...
Ok so I am struggling to find what this has to do with books, science fiction or even fantasy really but this video is just too funny to miss:
...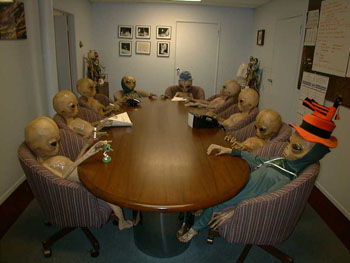 With the recent release to the public of the MOD's files on UFO encounters, it appears they have now decided that they are no longer going to keep files on Unidentified Flying Objects, destroying any reports after 30 days and insist that UFOs are not a military threat.
This announcement on the one hand could be seen as cutting...
World book day is almost here, on the 4th April 2010 and there are many activities this year including 11 £1 book stories which will be read by the Authors or Actors online on the day while there is also a "Buy one Give one" promotion running now in conjunction with The Times, The Sun and News of the World.
Buy one Give One means you buy a paperback and get a second book free to donate to charity, vouchers are available in the...