The Book of the year competition is now closed, thank you to all who voted and took part and of course to each of the authors who have written such incredible works of fiction over the last 12 months.
The winner of the Book of the year will be announced soon on this site, so please watch out for it. I would also like to point out that a few people have attempted to spoil this for everyone (as so often is the case) and SFBook is being...
This video tells the story of robot evolution all packed into just 1 minute.
...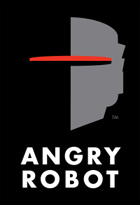 The most innovative publishers around at the moment are without a doubt those at Angry Robot Books, and continuing on their tireless quest to provide us with the best in science fiction and fantasy they have announced that for one month only in March 2011 they will open their doors to all unrepresented authors anywhere.
...
A reader lives a thousand lives before he dies. The man who never reads lives only one.
Brand new digital non-profit publisher H&H Books has been created by the team of Scott Harrison and the Angry Robot editor Lee Harris. All the titles will not only be available through the normal ebook retailers but 100% of the revenue will go directly to specific charitable causes.
If that wasn't...