News for March 2013
Article
At the beginning of March Art of War - the 5th book in David Wingrove's re-imagined epic Chung Kuo series was released (expect a review of books 4 and 5 on SFBook soon). To celebrate David Wingrove has kindly graced our site with an article about "Future Histories", an insightful look at how he wrote about China in the distant future.
Future histories. I used to love reading Isaac Asimov's and Robert A. Heinlein's, ditto Frank Herbert's and Ursula LeGuin's. And I'm a sucker for Iain Banks' Culture novels. I love the incredible sense of time and space these futures envisaged. But – with maybe LeGuin...
The safest road to hell is the gradual one-the gentle slope, soft underfoot, without sudden turnings, without milestones, without signposts
Book of the month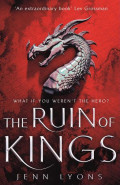 The Ruin of Kings by Jenn Lyons
A Message from SFBook
SFBook is entirely funded by Ant including hosting, development and any other costs.
If you enjoy the site please consider a small donation towards the cost of the upkeep and development of SFBook.