News for July 2015
Article
Gollancz Paperback of the Month for July 2015 is the impressive novel The Relic Guild by Edward Cox, reviewed by our good man Allen Stroud back in September last year. Allen seemed impressed:
Sometimes a book comes along that reminds you of the pleasure of being a reader and/or a writer, a book that you start at the right time and cannot fail to admire... ...an exciting debut from a writer who plainly loves what he has made and I'm looking forward to the sequel already
The Relic Guild is a blend of Steampunk, horror and adventure, a tale ten years in the making and one that shouldn't be missed.
...
The safest road to hell is the gradual one-the gentle slope, soft underfoot, without sudden turnings, without milestones, without signposts
Book of the month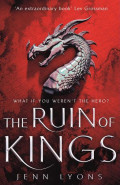 The Ruin of Kings by Jenn Lyons
A Message from SFBook
SFBook is entirely funded by Ant including hosting, development and any other costs.
If you enjoy the site please consider a small donation towards the cost of the upkeep and development of SFBook.