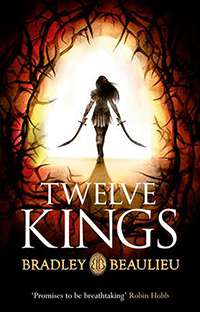 To celebrate the release of the quite excellent Twelve Kings, (click the link to see our review) we've been lucky enough to be provided with an extract of the novel and an introduction by the author.
Throughout the book, I have several other characters interspersed with those of Çeda, the story's main character. One of those...
Gollancz paperback of the Month for September is Richard Morgan's The Dark Defiles, conclusion to the incredible series A land fit for Heroes.
Following on from The Steel Remains and The Cold Commands, The Dark Defiles is epic fantasy in every sense of the word. A fitting conclusion to one of the great "dark" fantasy series of the 21st Century, absolutely not to be missed. Perfect for anyone looking for fantasy with a hard-edge.
...