The Strain is a trilogy of Vampire books written by the very talented writer and director of films including Pan's Labyrinth - Guillermo del Toro and popular thriller author Chuck Hogan.
The story follows a prolific strain of virus infecting New York that turns people into bloodthirsty Vampires.
The Strain
They have always been here. Vampires. In secret and in darkness. Waiting. Now their time has come....
Harry Harrison has completed the first draft of a brand new Stainless Steel Rat adventure. Reports so far suggest that the Russian version will be the first one realeased with a date planned for december 2009.
There is as of yet no mention of a UK release date..
One of my personal favorite science...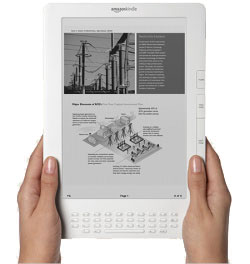 Amazon has announced a new version of its Kindle reader, called the Kindle DX, which features a 250% bigger size and a built in PDF reader.
Primarily aimed at newspaper readers, the new version follows amazons backward policy of increasing prices, with the DX retail price £87 higher than the already increased price of the Kindle 2.
...
Time is an illusion. Lunchtime doubly so.
Ian R Macleod is this years winner of the coveted Arthur C Clarke award, with his 5th book, Song of Time. The news was announced at the Apollo West End theatre as part of the start of the Sci-fi London film festival.
Ian R Macleod faced very tough competition from long established authors including Alastair Reynolds and Paul...