Amazon announces new Kindle DX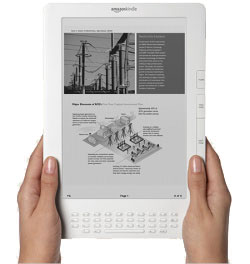 Amazon has announced a new version of its Kindle reader, called the Kindle DX, which features a 250% bigger size and a built in PDF reader.
Primarily aimed at newspaper readers, the new version follows amazons backward policy of increasing prices, with the DX retail price £87 higher than the already increased price of the Kindle 2.
Amazons Chief Executive said at the launch:
"You never have to pan, you never have to zoom, you never have to scroll. You just read"
The news has been received with mixed feelings, with some excited about the bigger screen and improved features while others are concerned about the lack of colour (It can only display 16 shades of grey) and the incredibly high price tag (£340).
Some are also concerned that the new Kindle is being aimed at the wrong market, in a time of falling economy and an industry that has felt the effects severely (the newspaper industry) many feel that this new technology will not, or cannot afford to be embraced.
What is clear though is that the new technology of e-readers is here to stay along with the sony e-reader, the iphone app and a new reader available soon from Plastic Logic.
Stephen King was at the launch and encouraged people to firmly embrace the new technology:
"Technology is a very strong curve and you are better off to swim with it than against it. These things work together and I don't see the Kindle as a replacement for the book. I see this as another way to deliver the story.
"With the Kindle you can have this in the library and it doesn't mean you have to burn your books. They work together".