News for December 2011
Article
As the end of the year fast approaches, it is time once again to look back over the past 12 months of reviews and select the one outstanding book to win the 2011 SFBook of the year.
The nominated books are drawn up from each one that managed to make "Book of the Month" in 2011 but the winner is chosen by you, the public.
You can vote for your favourite here: SFBook of the Year 2011.
As a reminder those books that made book of the month this year have been: December 2011 The Weird - Ann Vandermeer November 2011 Johannes Cabal the Fear Institute - Jonathan L...
Article
This months book of the month is a gargantuan compendium of the weird.
Celebrating the best of the last 100 years and featuring no less than 110 short stories this mammoth volume is edited by the eminent experts in Weird Fiction Ann & Jeff Vandermeer.
Wishing you all a very Weird Christmas.
...
I must have a prodigious amount of mind; it takes me as much as a week sometimes, to make it up
Book of the month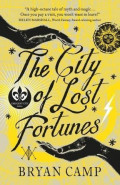 The City of Lost Fortunes by Bryan Camp
A Message from SFBook
SFBook is entirely funded by Ant including hosting, development and any other costs.
If you enjoy the site please consider a small donation towards the cost of the upkeep and development of SFBook.