News for January 2013
Article
Due to an authors concern with the Book of the year Poll this year I have decided that the winner will be chosen by myself instead (these polls seem to attract trouble for some reason). Apologies to anyone who took the time to vote and I would like to thank each and every one of you for all for the support shown over the last month. Next year I plan on creating a shortlist and winner internally to avoid any further difficulties.
It's been a very tough decision to choose just one book, each of the nominated twelve are worthy of the honour - themselves chosen from over 160 book reviews written and published this year on SFBook. In the end through much thought I short-listed them to a final 3:
...
Give a man a fire and he's warm for the day. But set fire to him and he's warm for the rest of his life.
Book of the month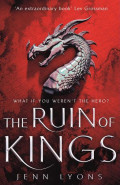 The Ruin of Kings by Jenn Lyons
A Message from SFBook
SFBook is entirely funded by Ant including hosting, development and any other costs.
If you enjoy the site please consider a small donation towards the cost of the upkeep and development of SFBook.