The winner of the Arthur C Clarke award for 2010 is... China Miéville for his book "The City & the City", breaking a record by becoming the first ever author to win the award 3 times!, having won the 2001 award for "Perdido Street Station" and the 2005 award for "Iron Council".
Miéville fought off some really strong competition, including heavyweights Kim Stanley Robinson for the rather special Galileo's Dream, Iain Banks for...
Commercial director Carl Erik Rinsch was originally planning on making his directorial debut with the ridley scott "Alien" prequel however as this fell through he took part in electronic giant Phillips' short-film experiment, which allowed five filmmakers to make their own movie using the same piece of dialogue.
Rinsch's short movie is called "The Gift" and is a futuristic story set in Moscow and seemlessly combines robotic and...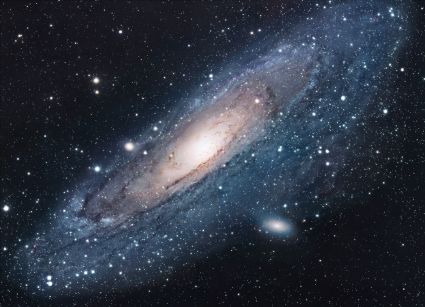 According to Nikodem Poplawski - physicist at the Indiana University in the US, our universe may actually sit inside a black hole that is in itself part of a larger universe. According to this new, quite outlandish and crazy sounding...
In the beginning the Universe was created. This has made a lot of people very angry and been widely regarded as a bad move.
The nominations for the 2010 Hugo awards have been announced at Aussiecon 4, the 68th World Science Fiction Convention. The convention itself will take place between the 2nd and 6th of September 2010 at the Melbourne Convention and Exhibition Centre.
Guests of honour include Kim Stanley Robinson, the award winning artist Shaun Tan and dedicated fan Robin Johnson. Programs will include discussion panels, lectures, science...
The shortlist for the 2010 David Gemmell awards have been announced over the Easter period and there are some interesting choices - with Brandon Sanderson being nominated twice (for Warbreaker and The Gathering Storm), along with Pierre Pevel (for best fantasy novel and Best newcomer).
The complete...
Soul Stealers is the sequel to the 5 star winning novel Kell's Legend, written by Andy Remic and featuring a quote from our humble site on the cover.
Due out on the 29th April 2010, Andy Remic has created a short film to wet the appetite...
...