In Denmark there is a thriving market for science fiction short stories. Since 2007, The Science Fiction Cirklen (Danish science fiction association) has been publishing an annual anthology of original science fiction short stories written by Danish authors.
For the very first time a selection of these short...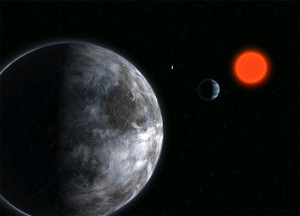 There has been a number of breakthroughs recently in both our search for habitable exoplanets and our understanding of how planets may populate the universe in general.
The nearby solar system Gliese which is only 20 or so light years away (in Galactic terms a next door neighbour) is again find itself under...
The finalists for the 2011 Locus Awards have been announced and there looks to be quite a lineup for best science fiction novel with Iain M Banks, Lois McMaster Hujold, William Gibson, Ian McDonald and Connie Willis all nominated.
China Miéville, Guy Gavriel Kay and Charles Stross look to be favorites for the best fantasy novel award. The Winners will be announced at the Science Fiction Awards Weekend in Seattle between 24th and 26th...
Wonder has no opposite; it springs up already doubled in itself, compounded of dread and desire at once, attraction and recoil, producing a thrill, the shudder of pleasure and fear.
Marcin Jakubowski is a Polish American and a self-made industrial designer who has come up with a revolutionary idea to create a "Global Village Construction Set", a set of tools to build  replicable, open source, modern, off-grid resilient communities.
He has figured out that 50 tools are required to build a self sustaining community and plans to create and publish open source designs, schematics, instructional videos,...
Most people who grew up in the 80's will remember the name David Braben, he was the co-developer who created the incredibly popular computer game Elite and has since created Frontier (the followup to Elite), Rollercoaster Tycoon and most recently Kinectimals.
He believes that since the dawn of the new millenium education has been teaching the skills to use programs but without the understanding of the hardware and...
Voices from the past is an Anthology containing 28 works of flash fiction (very short stories) written by some top names in science fiction and fantasy including Alasdair Reynold, George Mann, J Robert King, Jasper Fforde, Kaaron Warren, Lee Harris, Maurice Broaddus and Paul Cornell.
All the proceeds from the...
This years shortlist for the David Gemmell award's have now been finalised and voting is open to all members of the public to vote for the Legend award for Best Fantasy, the Morningstar award for Best Newcomer and the Ravenheart award for best artwork.
Voting is as easy as visiting the David Gemmell...
Book of the month award this month goes to a novel that was originally published over 60 years ago. Sirius was written by Olaf Stapledon in 1944 and tells the tale of a dog with human level intelligence.
A very moving tale it really does deserve to be a part of anyones collection, it's part of the SF Masterworks list and...