News for January 2019
Article
No matter what else happens, 2019 sounds like it's going to be a good year for books. While we haven't heard whether George RR Martin or Patrick Rothfuss will actually release their eagerly, long awaited novels, there are plenty of other books to get our teeth into. Some from established legends of the genre such as Alastair Reynolds, Tim Powers, Gregory Benford, Tad Williams, Guy Gavriel Kay, Pat Cadigan, Margaret Atwood (with her long awaited sequel to a Handmaids Tale) Ian McDonald and even Michael Swanwick with a stand-alone new novel set in his Iron Dragon world. Stephen Donaldson will complete his latest trilogy with The War Within.
Then there are the more recent authors who have made a name for themselves, such as Adrian Tchaikovsky, Josiah Bancroft, Ann Leckie (who ...
Article
SFBook would like to wish everyone a Happy New Year.
2019 looks to be an important year for science fiction. There are some promising stories on the horizon while we are hoping that the science fiction genre should continue to be accepted more broadly. We may even see some work from George R.R. Martin or Patrick Rothfuss, although I wouldn't count on it. There are a few big films coming out - not least with Star Wars Episode 9, Avengers End Game and Alita Battle Angel.
Blade Runner, The Running Man and Akira are all set in 2019 and although we haven't seen replicants or flying cars we do seem to be drifting towards the world of the Running Man - if it continues we will have to rename our "dystopian" sub-genre area as non-fiction.
2019 also marks 20 years of SFBoo...
Everyone is a genius, but if you judge a fish on ability to climb a tree it will live its life believing it is stupid
Book of the month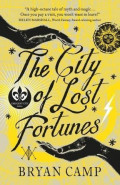 The City of Lost Fortunes by Bryan Camp
A Message from SFBook
SFBook is entirely funded by Ant including hosting, development and any other costs.
If you enjoy the site please consider a small donation towards the cost of the upkeep and development of SFBook.