News for January 2019
Article
SFBook would like to wish everyone a Happy New Year.
2019 looks to be an important year for science fiction. There are some promising stories on the horizon while we are hoping that the science fiction genre should continue to be accepted more broadly. We may even see some work from George R.R. Martin or Patrick Rothfuss, although I wouldn't count on it. There are a few big films coming out - not least with Star Wars Episode 9, Avengers End Game and Alita Battle Angel.
Blade Runner, The Running Man and Akira are all set in 2019 and although we haven't seen replicants or flying cars we do seem to be drifting towards the world of the Running Man - if it continues we will have to rename our "dystopian" sub-genre area as non-fiction.
2019 also marks 20 years of SFBoo...
There is no friend as loyal as a book.
Book of the month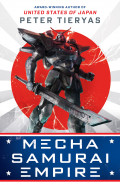 Mecha Samurai Empire by Peter Tieryas
A Message from SFBook
SFBook is entirely funded by Ant including hosting, development and any other costs.
If you enjoy the site please consider a small donation towards the cost of the upkeep and development of SFBook.