News for October 2014
Article
To co-incide with the paperback release of the quite excellent novel by Gavin Smith The Age of Scorpio, the author has kindly agreed to provide SFBook with his thoughts on "five things about your work in progress".
So this five things about your work in progress meme thing has been doing the rounds, and I've never seen a band wagon that I didn't want to jump on (that's not entirely true) except…I don't really discuss works in progress any more than I absolutely have to. Not even my editors. Though my agent keeps on asking me pointed questions. He uses words like "commercially viable", apparently this is different from commercia...
Creativity is knowing how to hide your sources
Book of the month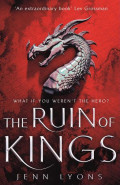 The Ruin of Kings by Jenn Lyons
A Message from SFBook
SFBook is entirely funded by Ant including hosting, development and any other costs.
If you enjoy the site please consider a small donation towards the cost of the upkeep and development of SFBook.