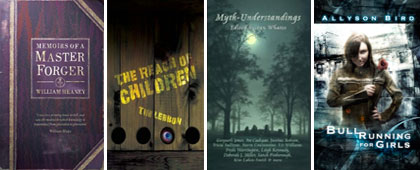 The biggest and best British fantasy convention, FantasyCon was held over the weekend, courtesy of the British Fantasy Society. During the convention, the British Fantasy Awards 2009 were celebrated. The Winners include the legendary Doctor Who series for Best Television and Vincent Chong for Best Artist (The...
There are quite a few articles around the net that are trying to debunk the idea that >Star Wars is actually Science Fiction, with some claiming it's actually fantasy instead. On the surface Star Wars would seem to define Science Fiction very well, it has space ships, lasers, aliens, faster than light travel and even a...
Storm Glass is the first novel in a new series by the acclaimed fantasy author Maria V. Snyder.
With her unique magical abilities, Opal Cowen has always felt unsure of her place at Sitia's Magic Academy. But when the Stormdancer clan needs help, Opal's knowledge makes her the perfect choice - until the mission goes awry.
Pulling her powers in unfamiliar directions, Opal find herself tapping into a new kind of magic as...
Cynical realism is the intelligent man's best excuse for doing nothing in an intolerable situation.
The Gathering Storm is the 12th novel in the much acclaimed Wheel of Time series by the Late author of fantasy, Robert Jordan. The series is being completed by Brandon Sanderson and will include 3 novels, The Gathering Storm, Shifting Winds and Tarmon' Gaidon (TBC).
The whole first chapter of The Gathering Storm, now set for...
The sequel to Beautiful Dead, a young Adult novel about life, dead and the limbo in-between (the beautiful dead of the title) is on it's way soon. Beautiful Dead: Arizona continues the story of Ellerton High as Darina mourns the death of her boyfriend Phoenix.
At the height of her grief, when the apparitions of...