News for September 2011
Article
Those forward thinking guys over at Solaris and Abaddon books are launching a massive campaign that aims to show people that given the huge availability of e-reading devices you can in fact Read Anything. It sounds fantastic and encompasses my feelings perfectly but I think they say it much better than I ever could so without further ado it's over to them:
Ever wanted to read something different but didn't want the world to judge you by the cover of the book?
Spaceships, wizards, hooded swordsman - we love them all. But it's not the cover, it's the insides that matter. So,...
Article
Another difficult month to choose the Book of the Month but in the end it just had to be Ian McDonald's novel The Dervish House.
The novel is set in a future Istanbul and tells the tale of the complex lives of several characters that all reside in the titular abode.
It's an incredible novel of infinite depth and really does deserve to be a part of any science fiction fans collection. It's also been nominated for just about every major award and hasso far won the John W Campbell and the BSFA award.
...
The modern superstition is that we're free of superstition.
Book of the month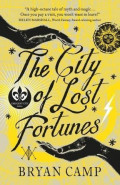 The City of Lost Fortunes by Bryan Camp
A Message from SFBook
SFBook is entirely funded by Ant including hosting, development and any other costs.
If you enjoy the site please consider a small donation towards the cost of the upkeep and development of SFBook.