News for August 2015
Article
As many readers will know, this year there has been a concerted effort by a small but vocal minority to "game" the Hugo awards and try and put science fiction back by a few decades. They don't want to see ethnic and gender diversity in "their" science fiction and many of the Hugo award shortlists for this year were full of this small groups short-sighted, predominantly white male fiction.
Thankfully the larger science fiction community has made their voices heard and have chosen "No Award" for five of the Hugo categories including Best Novella, Best Short Story, Best Related Work, Best Editor Short Form and Best Editor Long Form.
While this does mean that for those categories many deserving people have missed out on a chance of becoming ...
Article
Gollancz Paperback of the Month August 2015 is John Scalzi's novel Lock In which we reviewed back in January. It's not, as you might expect a novel about late night pub drinking, instead it's a science fiction police procedural which describes a pandemic virus which causes 99% of the population to suffer "flu like" symptoms. The other 1% become "locked in" to their own bodies, fully awake, but unable to move or respond to stimulus (a real condition known as "locked-in syndrome"). Those locked in become known as "Haden", named after the most famous locked-in survivor, America's first lady.
A huge scientific endeavour follows and two discoveries are made. The first, the creation of ...
I've lived through some terrible things in my life, some of which actually happened.
Book of the month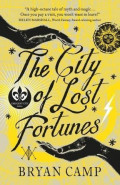 The City of Lost Fortunes by Bryan Camp
A Message from SFBook
SFBook is entirely funded by Ant including hosting, development and any other costs.
If you enjoy the site please consider a small donation towards the cost of the upkeep and development of SFBook.