Hugo Award Winners 2015
As many readers will know, this year there has been a concerted effort by a small but vocal minority to "game" the Hugo awards and try and put science fiction back by a few decades. They don't want to see ethnic and gender diversity in "their" science fiction and many of the Hugo award shortlists for this year were full of this small groups short-sighted, predominantly white male fiction.
Thankfully the larger science fiction community has made their voices heard and have chosen "No Award" for five of the Hugo categories including Best Novella, Best Short Story, Best Related Work, Best Editor Short Form and Best Editor Long Form.
While this does mean that for those categories many deserving people have missed out on a chance of becoming Hugo Award winners it does also send a message to those racist, homophobic and sexist people. What do the vast majority of science fiction readers want? — well written and engaging fiction, nothing more, nothing less.
The best news? The Three Body Problem won best novel.
That's the first ever translated work to win a Hugo award for best novel and co-incidentally we had scheduled a review next week — brought forward to today to celebrate. It's also the first time a Chinese author has won the Hugo award for best novel and a massively deserving win for Liu Cixin.
The superbly talented author Wes Chu won the The John W. Campbell Award for Best New Writer
Here's that list in full:
Best Novel
The Three Body Problem - Cixin Liu, Ken Liu (translator)
The Goblin Emperor - Katherine Addison
Ancillary Sword - Ann Leckie
Skin Game - Jim Butcher
The Dark Between the Stars - Kevin J. Anderson
Best Novella
No Award
Flow - Arlan Andrews, Sr.
Big Boys Don't Cry - Tom Kratman
One Bright Star to Guide Them - John C. Wright
The Plural of Helen of Troy - John C. Wright
Pale Realms of Shade" - John C. Wright
Best Novelette
The Day the World Turned Upside Down - Thomas Olde Heuvelt, Lia Belt (translator) (Lightspeed, 04-2014)
The Triple Sun: A Golden Age Tale - Rajnar Vajra (Analog, 07/08-2014)
Ashes to Ashes, Dust to Dust, Earth to Alluvium - Gray Rinehart (Orson Scott Card's InterGalactic Medicine Show, 05-2014)
The Journeyman: In the Stone House - Michael F. Flynn (Analog, 06-2014)
Championship B'tok - Edward M. Lerner (Analog, 09-2014)
Best Short Story
No Award
Totaled - Kary English (Galaxy's Edge Magazine, 07-2014)
A Single Samurai - Steven Diamond (The Baen Big Book of Monsters, Baen Books)
Turncoat - Steve Rzasa (Riding the Red Horse, Castalia House)
On A Spiritual Plain - Lou Antonelli (Sci Phi Journal #2, 11-2014)
The Parliament of Beasts and Birds - John C. Wright (The Book of Feasts & Seasons, Castalia House)
Best Related Work
No Award
The Hot Equations: Thermodynamics and Military SF - Ken Burnside (Riding the Red Horse, Castalia House)
Why Science is Never Settled - Tedd Roberts (Baen.com)
Transhuman and Subhuman: Essays on Science Fiction and Awful Truth - John C. Wright (Castalia House)
Letters from Gardner - Lou Antonelli (The Merry Blacksmith Press)
Wisdom from My Internet - Michael Z. Williamson (Patriarchy Press)
Best Graphic Story
Ms. Marvel Volume 1: No Normal, written by G. Willow Wilson, illustrated by Adrian Alphona and Jake Wyatt, (Marvel Comics)
Saga Volume 3 - written by Brian K. Vaughan, illustrated by Fiona Staples (Image Comics)
Rat Queens Volume 1: Sass and Sorcery - written by Kurtis J. Weibe, art by Roc Upchurch (Image Comics)
Sex Criminals Volume 1: One Weird Trick - written by Matt Fraction, art by Chip Zdarsky (Image Comics)
The Zombie Nation Book #2: Reduce Reuse Reanimate - Carter Reid (The Zombie Nation)
Best Dramatic Presentation, Long Form
Guardians of the Galaxy
Captain America: The Winter Soldier
Edge of Tomorrow
The Lego Movie
Best Dramatic Presentation, Short Form
Orphan Black: By Means Which Have Never Yet Been Tried
Doctor Who: Listen
Game of Thrones: The Mountain and the Viper
The Flash: Pilot
Grimm: Once We Were Gods
Best Editor, Short Form
No Award
Mike Resnick
Jennifer Brozek
Bryan Thomas Schmidt
Vox Day
Best Editor, Long Form
No Award
Toni Weisskopf
Sheila Gilbert
Anne Sowards
Jim Minz
Vox Day
Best Professional Artist
Julie Dillon
Kirk DouPonce
Alan Pollack
Nick Greenwood
Carter Reid
Best Semiprozine
Lightspeed Magazine
Strange Horizons
Beneath Ceaseless Skies
Abyss & Apex
Andromeda Spaceways In-Flight Magazine
Best Fanzine
Journey Planet, edited by James Bacon, Christopher J Garcia, Colin Harris, Alissa McKersie, and Helen J. Montgomery
Tangent SF Online, edited by Dave Truesdale
Elitist Book Reviews, edited by Steven Diamond
The Revenge of Hump Day, edited by Tim Bolgeo
Best Fancast
Galactic Suburbia Podcast, Alisa Krasnostein, Alexandra Pierce, Tansy Rayner Roberts (Presenters) and Andrew Finch (Producer)
Tea and Jeopardy, Emma Newman and Peter Newman
The Sci Phi Show, Jason Rennie
Adventures in SciFi Publishing, Brent Bower (Executive Producer), Kristi Charish, Timothy C. Ward & Moses Siregar III (Co-Hosts, Interviewers and Producers)
Dungeon Crawlers Radio, Daniel Swenson (Producer/Host), Travis Alexander & Scott Tomlin (Hosts), Dale Newton (Host/Tech), Damien Swenson (Audio/Video Tech)
Best Fan Writer
Laura J. Mixon
Jeffro Johnson
Dave Freer
Amanda S. Green
Cedar Sanderson
Best Fan Artist
Elizabeth Leggett
Spring Schoenhuth
Ninni Aalto
Steve Stiles
Brad W. Foster
The John W. Campbell Award for Best New Writer
Wesley Chu
Kary English
Eric S. Raymond
Jason Cordova
Rolf Nelson
The trouble with having an open mind, of course, is that people will insist on coming along and trying to put things in it.
Book of the month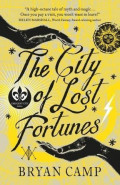 The City of Lost Fortunes by Bryan Camp
A Message from SFBook
SFBook is entirely funded by Ant including hosting, development and any other costs.
If you enjoy the site please consider a small donation towards the cost of the upkeep and development of SFBook.