Books to look out for in 2016

2016 looks set to be a big year for science fiction and fantasy, with some highly promising TV series - from Man in the High Castle to new episodes of Black Mirror, films from another Star Wars to JG Ballard's High Rise (with many in between) and of course lots of lovely books.
Some of the most talented authors writing today are publishing books this year including Stephen King, Joe Hill, Tad Williams, Ben Aaronovich, China Miéville, James SA Corey, Dave Hutchinson, Steven Erikson, Paul McAuley and Guy Gavriel Kay — to name just a few. There is also host of new authors and those who are looking to repeat last years success including Claire North, Peter Newman, Adrian Selby, Sofia Samatar, Gerald Brandt and Fred Strydom.
Briefly these include All the Birds in the Sky by IO9's Charlie Jane Anders, United States of Japan by Peter Tieryas, Into Everywhere by Paul McAuley, The Fireman by Joe Hill, Peace Talks by Jim Butcher, Ninefox Gambit by Yoon Ha Lee, The Hanging Tree by Ben Aaronovich, The Perdition Score by Richard Kadrey, The Everything Box also by Richard Kadrey, Europe in Winter by Dave Hutchinson, Arkwright by Allen Steele, Children of Earth and Sky by Guy Gavriel Kay and End of Watch by Stephen King (amongst many others). I could go on but then I'd just be repeating the list mentioned below.
We are compiling a list of some of the most promising here, sorted by expected publication date and we will add to the list as we learn of new titles. If any author or publisher has works they want to see included fire an email to us and we'll do our best to add them should we feel they are worthy!
Please do remember that many of these are expected release dates and may change (some even did while I was writing this article).
Unknown Date / Maybe's
Winds of Winter by GRR Martin (HarperVoyager)
At the end of 2015 it was thought that Martin might release his long awaited next installment in long running A Song of Ice and Fire series however since then we've learned that the book won't be released before the next series of Game of Thrones airs — this will be the first time that the TV series has got ahead of the books. As such it's now looking unlikely that we will see Winds of Winter this year. It also means that people watching the TV show will find out the full story before those who have been patiently reading the book series which began life in the last Millennium.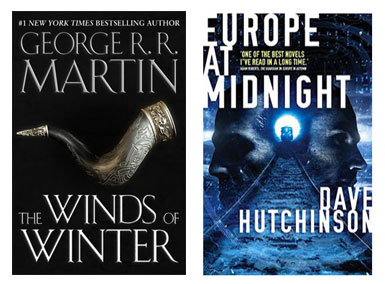 Europe in Winter by Dave Hutchinson (Solaris)
Europe in Winter is the third volume in one of the best science fiction series of modern times, written by Dave Hutchinson. It is hoped that Europe in Winter will be released in 2016 although there is no confirmed publication date.
Door of Stone by Patrick Rofuss (Gollancz)
There is rumour that the much anticipated third book in Patrick Rofuss' acclaimed Kingkiller Chronicle series will be published this year, following on from The Name of the Wind and The Wise Mans Fear. In a similar vein to Winds of Winter, the Door of Stone will be finished when it's finished and no solid publication date has been released.
Rewind by Mira Grant (Orbit)
Rewind is the fourth installment in the excellent Newsflesh series by Mira Grant (pen name for talented author Seanan McGuire). The Newsflesh series is set decades after a zombie apocalypse, however due to the huge amount of zombie books, film and tv series many people were prepared and won the fight. Now they live with the still incurable virus and zombies still shamble around. The first two books in the series, Feed and Deadline were both shortlisted for the Hugo Award. At the moment there is no firm date announced for publication other than the press release by Orbit that it will be out in 2016.
The Witchwood Crown by Tad Williams (DAW)
Memory, Sorrow and Thorn is one of the finest and most memorable fantasy series I've ever read. It's a classic fantasy tale of lowly servant finding power and greatness after being thrust into danger. The series draws from folklore and legends such as King Arthur, the Green Knight and Baba Yaga. Written by Tad Williams it's a beautifully crafted fantasy epic and The Witchwood Crown is the first in a new series following on from events in the first trilogy. I am looking forward to The Witchwood Crown more than almost any other book mentioned here. There is no concrete publication date just that it's likely to be Summer / Autumn 2016.
January
This Census Taker by China Miéville (Del Rey)
This Census Taker is Miéville's first novel in ages and if your a fan of the author, it probably feels even longer. It's more a novella really at only 160 pages and tells the story of a remote and lonely boy witnessing a traumatic event. Unable to escape from an increasingly unhinged parent he dreams of freedom. When at last a stranger knocks at his door, the boy senses that his days of isolation might be over. But by what authority does this man keep the meticulous records he carries? What is the purpose behind his questions? Is he friend? Enemy? Or something else altogether? An interesting premise but I do wonder why Miéville has gone from creating huge doorstops to thin pamphlets. His second novel (The Last Days of New Paris) released in August this year is also bordering on a novella.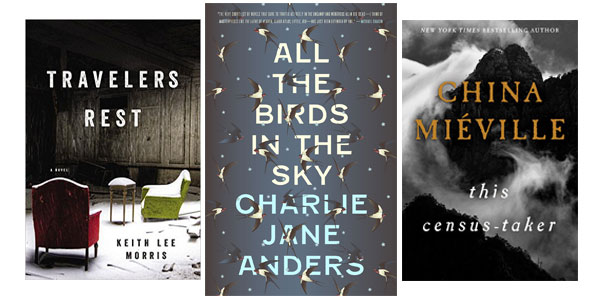 All the Birds in the Sky by Charlie Jane Anders (Titan Books)
Charlie Jane Anders is IO9's Editor-in-Chief and a Hugo award winning writer. All the Birds in the Sky is her first full length novel and tells the tale of Patricia and Laurence. Patricia is a witch who can communicate with animals. Laurence is a mad scientist and the inventor of the "Two second time machine". Growing up together as teenagers their lives eventually take them down different paths. As adults they find each other again. Laurence as mad as ever is trying to save the world while Patricia is a graduate of a hidden school for magical practitioners who is secretly trying to repair the worlds ailments. Both attempting to do the same thing in very different ways and living in different worlds. Read the review here.
Travelers Rest by Keith Lee Morris (Little Brown and Company)
Travelers Rest is a classic horror story of a family being trapped in a crumbling hotel call Travelers Rest following a fierce blizzard. It's been compared to Stephen kings work as well as Twin Peaks which sounds like a wonderfully rich combination.
Medusa's Web by Tim Powers (Corvus)
Tim Powers is one of those natural story tellers. His prose is uplifting and the linguistic equivalent of a massage. Medusa's Web tells the story of Scott and Madeline Madden being summoned to Caveat, the crumbling, huge old family mansion nestled in the hollywood hills. The house holds dark secrets and even stranger artifacts including a collection of hypnotic abstract images inked on paper allows the Maddens to briefly fragment and flatten time - to transport themselves into the past and future in visions that are both puzzling and terrifying.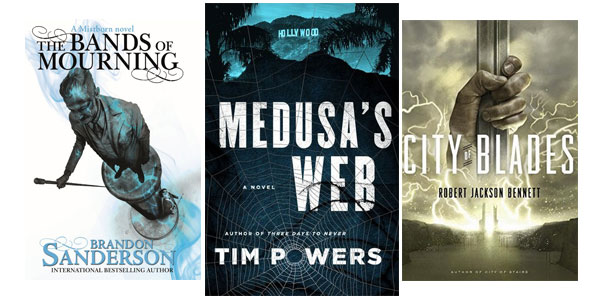 The Pagan Night by Tim Akers (Titan Books)
The Pagan Night is the first novel in a new series (The Hallowed War) by Tim Akers. It's the start of a promising tale that see's mad gods, holy knights, Inquisitor's and noble houses fight battles of power, politics and prejudice.
City of Blades by Robert Jackson Bennett (Jo Fletcher Books)
City of Blades follows on from events in Robert Jackson Bennett's previous novel The City of Stairs . This time we visit the city of Voortyashtan, an ancient place that was once the stronghold of the god of war and death. Now with the god dead the city lies in ruins, a wasteland of sectarian violence and bloody uprisings.
Bands of Mourning by Brandon Sanderson (Gollancz)
Bands of Mourning is the 6th book in the Mistborn series by Brandon Sanderson, following on from events in Shadows of Self. For those who haven't read these books, the Mistborn series is a richly imagined world where 19th century technology mixes with magic and the wild west. It's epic fantasy from a true storyteller. Read the review here.
The Last Weekend: A Novel of Zombies, Booze, and Power Tools by Nick Mamatas ( Night Shade Books)
Have we got room for another Zombie novel? If it's written by Nick Mamatas then absolutely! Vasilis Billy Kostopolos is a failed writer, successful barfly and most recently survivor and de-animator of shambling corpses. He has fully found his calling in hunting down the zombie horde, peddling his one and only published short story and trying to drink himself to oblivion. That is, until both his girlfriends turn out to be homicidal revolutionaries, he collides with a gang of Berkeley scientists gone berserk, the long-awaited Big One finally strikes San Francisco, and what s left of local government can no longer hide the awful secret lurking deep in the basement of City Hall.
Unforgettable by Eric James Stone (Baen Books)
You know when you read something and think, damn I wish I'd thought of that? That's how I felt when I read the blurb about Unforgettable. In the near future a fluke of quantum mechanics manages to render CIA Agent Nast Morgan completely forgettable. Not just forgettable in the sense of being a bit dull though. Forgettable in the sense that no matter how hard someone tries, they just cannot remember Nat for more than a minute after he's gone. That is until Nat meets a Russian spy named Yalena whose mission is in conflict with his own—and she remembers him. And they're handcuffed together.
Steal the Sky by Megan E. O'Keefe (Angry Robot)
Steal the Sky is the first novel in the Scorched Continent series and the debut of Megan O'Keefe. It follows the conman Detan Honding and his trusted companion as they set their sites on the biggest heist of their career — the gorgeous airship of the exiled commodore Thratia.
Midnight Taxi Tango by Daniel Jose Older (Roc)
Midnight Taxi Tango is a new novel in the Urban fantasy series Bone Street Rumba by Daniel Jose Older. Carlos Delacruz is an agent for the Council of the Dead, eliminating New York's ghost problems. This time it s a string of gruesome paranormal accidents in Brooklyn s Von King Park that has already taken the lives of several locals and is bound to take more.
February
Down Station by Simon Morden (Gollancz)
Simon Morden is an award winning author, best known for his Metrozone series. His new novel Down Station promises to be one of the books to read this year. It starts with a small group of London commuters witnessing a fiery apocalypse. Escaping the wreckage they emerge onto a wild shore backed by cliffs and rolling grassland. The world they find themselves in is full of mythical creatures, a world that seems to be shaped by every memory of every London there has ever been. Read the review here.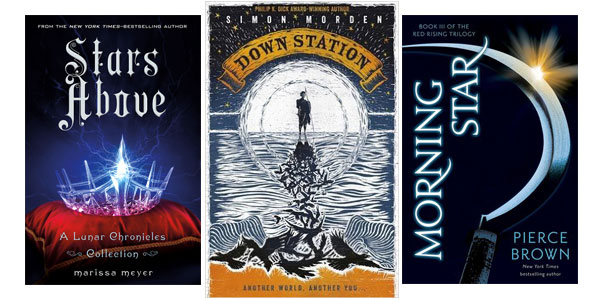 Morning Star by Pierce Brown (Hodder & Stoughton)
Morning Star is the final volume in the Red Rising trilogy, a series that describes the life of one of a thousand miners on Mars, living below ground and extracting elements that can be used to terraform the red planet and allow humanity to escape a dying earth. Darrow discovers that all his people have been lied to, that Mars is not only habitable but has been inhabited for generations by a people calling themselves "the Golds". It's been likened to a more grown up version of the Hunger Games and many are looking forward to Morning Star and the completion of the story.
The Immortals by Jordana Max Brodsky (Orbit)
The Immortals is a new spin on classic mythology with greek gods abroad in modern day manhattan. It's been well received by fellow authors with Deborah Harkness calling the book "arresting and uncanny".
Stars Above by Marissa Meyer (Feiwel & Friends)
The Lunar Chronicles are a modern, futuristic re-telling of classic fairy tales, so far including Cinderella, Little Red Riding Hood, Rapunzel and Snow White. Created by Marissa Meyer this young adult series is now reaching it's fifth volume with Stars Above, an anthology of nine short stories that go some way towards answering unanswered questions while also providing a sneak peak into Heartless, the forthcoming sixth book in the series.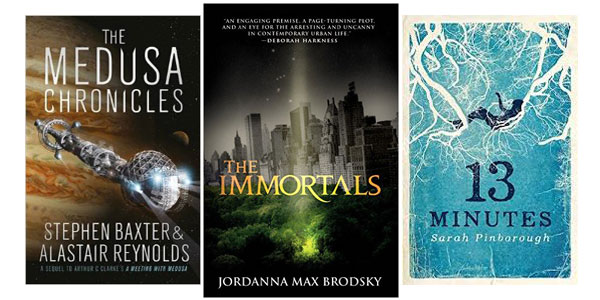 The Medusa Chronicles by Alastair Reynolds and Stephen Baxter (Gollancz)
The Medusa Chronicles is inspired by Arthur C Clarkes memorable short story A Meeting with Medusa. Reynolds and Baxter continue the story of augmented human Commander Howard Falcon. Brought back after he almost lost his life in an accident The Medusa Chronicles charts his journey through the centuries of space-exploration, first contact, AI interaction and further into the exploration into space.
13 Minutes by Sarah Pinborough (Gollancz)
A psychological thriller about people, fears, manipulation and the power of the truth. Natasha was dead for 13 minutes, dying not by accident and not by her own hand. It changes her world completely. Sarah Pinborough is one hell of a writer and this sounds very special indeed.
March
Borderline by Mishell Baker (Saga Press)
Borderline is the debut novel of Mishell Baker, a recent graduate of the Clarion Science Fiction and Fantasy Writers' Workshop. The book follows Millie, a cynical paraplegic screenwriter who gets recruited into a secret organisation that oversees relations between Hollywood and Fairyland. The protagonist is not just cynical though, with a borderline personality disorder and paraplegic due to a failed suicide attempt, understanding Millie is reason alone to read this intriguing book.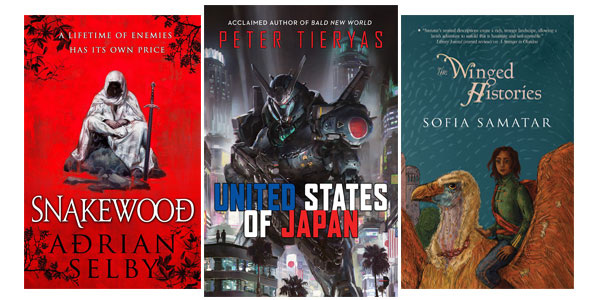 United States of Japan by Peter Tieryas (Angry Robot Books)
The Man in the High Castle is one of my favourite books of all time. This subversive alternative history story was originally planned as the first in a three part series (one about the Japanese, one about the Germans and a third about the Free State in the middle) however PKD got so distressed researching about the Nazi atrocities that he just couldn't bring himself to write any more. 2016 has two reasons to celebrate this work. Amazon's new TV series and this book.
Peter Tieryas imagines how this world might have developed from the Japanese' perspective. The United States of Japan are now ruled over by huge robots. The resistance however lives on in a group known as the George Washingtons. Their latest subversive attempts focus on a videogame. A game that imagines that the Allies won the second World War. As a video game censor, it's Captain Beniko Ishimura's job to get to the bottom of this disturbing development
Captain Beniko Ishimura s job is to censor video games, and he s tasked with getting to the bottom of this disturbing new development. But Ishimura's hiding something, kind of. He's slowly been discovering that the case of the George Washingtons is more complicated than it seems, and the subversive videogame origins are even more controversial and dangerous than the censors originally suspected.
Snakewood by Adrian Selby (Orbit)
Snakewood is the debut novel by Adrian Selby. It's a GrimDark fantasy that tells the tale of a mercenary band known as "The Twenty" and the assassin who is trying to wipe them out. It looks very promising, especially if you like Joe Abercrombie or Mark Lawrence.
The Winged Histories by Sofia Samatar (Small Beer Press)
Sofia Samatar made her voice herd last year with the critically debut novel A Stranger in Olondria, winning the British Fantasy (Robert Holdstock) Award for best Fantasy, the World Fantasy Award and the John W. Campbell Award for best new writer. I couldn't find much about her second novel as most sites are content to expound upon the success of her first. The publisher has said of The Winged Histories: Using the sword, pen, body, and voice, four women confront a rebellion and the older, stranger threat behind it.
The Courier by Gerald Brandt (Daw Books)
The Courier is the debut novel of Gerald Brandt and has been described as a "fast-paced cyberpunky story of a future Los Angeles with a kick-ass heroine you'll never forget" by Robert J Sawyer. It's about a motorcycle courier in the near future who gets into trouble when she witnesses a murder instigated by a powerful group of people.
The Spider's War by Daniel Abraham (Orbit)
The Spider's War is the 5th and final volume in the acclaimed Dagger and Coin series by Daniel Abraham — who is also sometimes knows as one half of the science fiction author James S A Corey (along with Ty Frank). The Dagger and Coin is epic fantasy in it's most glorious and if you've read the first four books this will be simply unmissable.
The Raven King by Maggie Stiefvater (Scholastic Press)
The Raven King is the fourth and final novel in The Raven Boys Quartet by Maggie Stievater. A series that has been raved about by pretty much every person who's read it, if you haven't read the series and you like fantasy you are missing out, big time.
Javelin Rain by Myke Cole (Ace Books)
Javelin Rain is the 5th novel in Myke Cole's Shadow Ops military fantasy series. What makes Cole's novels stand out is the depiction of the military — having been a soldier himself. His novels feel so realistic that when magic is introduced it doesn't seem too outlandish. Javelin Rain is formed of two bits of military code:
Javelin: A code denoting the loss of a national security asset with strategic impact.

Rain: A code indicating a crisis of existential proportions.

Javelin Rain incidents must be resolved immediately, by any and all means necessary, no matter what the cost...
Arkwright by Allen Steele (Tor Books)
Allen Steele is one of my favourite space opera authors. His Coyote series is outstanding and I'm always looking out for his next book. Arkwright — not, we think the Arkwright from Open All Hours (although that would be fun) — is a successful science fiction writer who sets up a foundation before he dies that is dedicated to building a colony on a newly discovered world light years from Earth.
The Paper Menagerie and Other Stories by Ken Liu (Saga Press)
The Paper Menagerie and Other Stories is an anthology of the very best of Ken Liu's short stories. In other works it's the best stories from one of the best authors writing today.
April
Sleeping Giants by Sylvain Neuvel (Del Rey)
Sleeping Giants is the debut of Canadian author Sylvain Neuvel and the format follows that of World War Z, Robopocalypse — told through interviews, journal entries, transcripts, and news articles. Beginning when a girl named Rose rides her bike in South Dakota and falls through the earth, waking up at the bottom of a square-shaped hole with glowing walls and intricate carvings.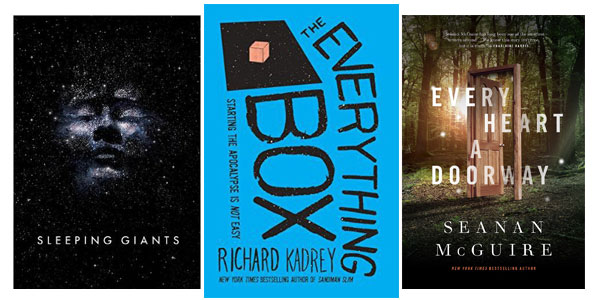 The Everything Box by Richard Kadrey (HarperCollins)
Richard Kadrey, best known for his Sandman Slim novels introduces us to the crazy world of the Everything Box. A doomsday box built by the angelic horde to bring about humanities doom. 22000 B.C. and an beautiful Angel stands atop a mountain. He smiles because soon, the last of humanity who survived the great flood will meet its end, too. However when the Angel reaches into his pocket to use the Doomsday box, he realises he has lost it, stolen by a specialist thief called Coop for a mysterious client.
Every Heart a Doorway by Seanan McGuire (Tor Books)
Every Heart a Doorway is a new fantasy story by talented author Seanan McGuire which asks the question — when a portal fantasy has ended what happens after the Ever After. Where do the protagonists go after the story is done with them?, what do they do and how do they cope with reality again? It begins almost as a coming-of-age tale, but soon becomes something quite different and unexpected.
The Edge of Worlds by Martha Wells (Night Shade Books)
The Edge of Worlds is a new novel in Martha Wells' Raksura universe. An expedition of groundlings from the Empire of Kish have traveled through the Three Worlds to the Indigo Cloud court of the Raksura, shape-shifting creatures of flight that live in large family groups. The groundlings have found a sealed ancient city at the edge of the shallow seas, near the deeps of the impassable Ocean. They believe it to be the last home of their ancestors and ask for help getting inside. But the Raksura fear it was built by their own distant ancestors, the Forerunners, and the last sealed Forerunner city they encountered was a prison for an unstoppable evil.
Prior to the groundlings' arrival, the Indigo Cloud court had been plagued by visions of a disaster that could destroy all the courts in the Reaches. Now, the court's mentors believe the ancient city is connected to the foretold danger. A small group of warriors, including consort Moon, an orphan new to the colony and the Raksura's idea of family, and sister queen Jade, agree to go with the groundling expedition to investigate. But the predatory Fell have found the city too, and in the race to keep the danger contained, the Raksura may be the ones who inadvertently release it.
Arena by Holly Jennings (Ace Books)
Now that gaming has finally become a more recognised and respectable pastime it's good to see authors begin to feature them more. Arena is another example, this time focusing on the world of competitive gaming. It's being marketed as Hunger Games Meets Ready Player One and I can see why. In the near future there are RAGE tournaments which pit elite players against each other in a virtual gaming league. It's a fight to the digital death however the pain is as real as it gets. Kali Lang is the first woman to captain a RAGE team and begins to realise that the real world isn't everything it seems to be…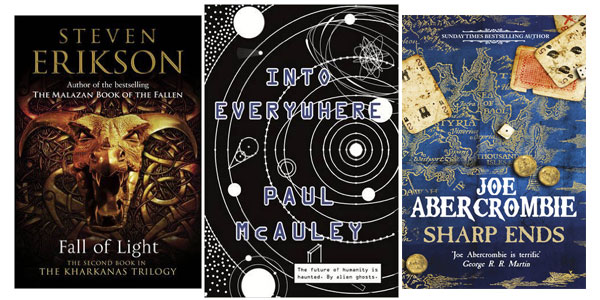 Sharp Ends by Joe Abercrombie (Gollancz)
Joe Abercrombie is the King of Grimdark and his novels totally absorbing. Sharp Ends is an anthology of tales set within his First Law universe and includes award winning short stories of violence, treachery and everything else you expect to see in his dark universe.
The Malice by Peter Newman (Harper Voyager)
The Vagrant was one of my favourite fantasy novels of 2015, a mature and confident prose with a dark, twisted world and wonderfully enigmatic protagonist. The story is outstanding. The Malice is the sequel any reader of The Vagrant will have been waiting for. The Vagrant may have found a home but fate may not be done with him yet...
Into Everywhere by Paul McAuley (Gollancz)
Into Everywhere is the sequel to last years quite brilliant novel Something Coming Through by Paul McAuley. Humanity has spread to the planets that the Jackaroo provided, finding the ruins of a dozen previous civilisations along with ancient spaceships, the technology of which has led to a new way of life. It seems the previous clients of the Jackaroo all perished — a fate Humanity has avoided so far, despite humanities failings still unchanged.
A woman living a quiet secluded life, with only her dog and her demons for company. The dissolute heir to a powerful merchant family. The laminated brain of the woman who led us into the universe. A policeman, seemingly working for the Jackaroo. All of these people are on the edges of a vast plan, one which will span decades and light years. A piece of alien code has awakened, and the end of our species may be happening around us.
And we may finally discover if the aliens really are here to help us.
Fall of Light by Steven Erikson (Bantam Press)
You know you are in for a big read when even the blurb looks weighty. Steven Erikson is a gifted fantasy author and following his completion of the long running Malazan Book of the Fallen series is now flexing his literative muscles. Fall of Light is the Second Book in the Kharkanas Trilogy, following Forge of Darkness and set in an ancient land that was once home to powers so great that note even death was eternal.
May
Children of Earth and Sky by Guy Gavriel Kay (Hodder & Stoughton)
The Fionavar Tapestry is an absolutely stunning fantasy series, on a par with Memory, Sorry and Thorn. Guy Gavriel Kay delights in describing our past in a way that few have managed to portray. Children of Earth and Sky is set in Renaissance Europe and follows a young woman who sets out to find vengeance for her lost family.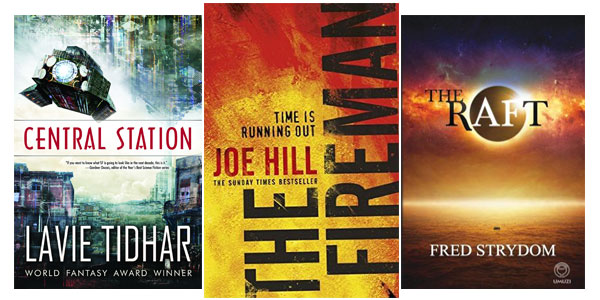 The Raft by Fred Strydom (Talos)
The Raft is the debut of Fred Strydom and follows one mans journey across a world that has collectively lost it's memory in order to find his son (whom he has had vague visions about).
Central Station by Lavie Tidhar (Tachyon Publications)
Lavie Tidhar is an incredible, vastly under-appreciated author and I look forward to his new works like few others. Central Station is about a worldwide diaspora that has left a quarter of a million people at the foot of a space station. Cultures collide in real life and virtual reality. The city is literally a weed, its growth left unchecked. Life is cheap and data is cheaper.
But at Central Station, people and machines still adapt, thrive, love . . . and even evolve.
The Fireman by Joe Hill (Gollancz)
Joe Hill broke the mold two years ago with his horror novel N0S4R2. The Fireman is already set to follow the that success. It's not even out yet and already it is causing a bit of a stir and has been optioned to be turned into a film by Fox, directed by Louis Leterrier (Clash of the Titans, Now You See Me) and produced by Wyck Godfrey and Marty Bowen (the Twilight saga, The Maze Runner, The Fault in our Stars).
The Fireman is about a deadly new plague doctors call Draco Incendia Trychophyton that is spreading across the United States. Commonly referred to as Dragonscale, it's a highly contagious spore that marks it's victims with beautiful black and gold marks across their bodies—before causing them to burst into flames. Millions are infected; blazes erupt everywhere. There is no antidote. No one is safe.
League of Dragons by Naomi Novik (HarperVoyager)
League of Dragons is the 9th and final book in the Temeraire series by Naomi Novik.
Napoleon's invasion of Russia has been roundly thwarted. But even as Capt. William Laurence and the dragon Temeraire pursue the retreating enemy through an unforgiving winter, Napoleon is raising a new force, and he'll soon have enough men and dragons to resume the offensive. While the emperor regroups, the allies have an opportunity to strike first and defeat him once and for all – if internal struggles and petty squabbles don't tear them apart.
Aware of his weakened position, Napoleon has promised the dragons of every country – and the ferals, loyal only to themselves – vast new rights and powers if they fight under his banner. It is an offer eagerly embraced from Asia to Africa – and even by England, whose dragons have long rankled at their disrespectful treatment.
But Laurence and his faithful dragon soon discover that the wily Napoleon has one more gambit at the ready – one that that may win him the war, and the world.
Too Like the Lightning by Ada Palmer (Tor Books)
Too Like the Lightning by Ada Palma is the first book in Terra Ignota, a tetralogy and political science fiction epic set inthe 25th century (without Buck Rogers I would imagine). A hard-won utopia built on technological abundance where gender distinctions are taboo and the majority of the world population are affiliated with clans of like minded people.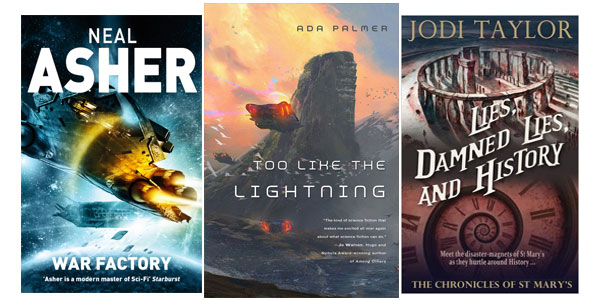 Peace Talks by Jim Butcher (Orbit)
Peace Talks is the latest Dresden Files novel by Jim Butcher. There is no official blurb released about the book yet but it's a new Dredsen Files novel and I for one don't need to know more than that!
The Sudden Appearance of Hope by Claire North (Orbit)
Claire North made a big splash in 2014 with The First Fifteen Lives of Harry August, a wonderfully nuanced Time Travel story and one of my most memorable reads of last year. The Sudden Appearance of Hope is about a girl named Hope Ardern who the world tends to forget. No matter what she does, who she upsets or what crimes she commits no-one remembers, not even her family.
Strangely enough its not the only book out this year about forgetting,
The Raft
by Fred Strydom (mentioned above) is about the whole world forgetting, while
Unforgettable
by Eric James Stone (mentioned in the January releases) is about a CIA agent no-one can remember.
Lies, Damned Lies and History by Jodi Taylor (Accent Press)
Lies, Damned Lies and History is the 7th novel in Jodi Taylor's Chronicles of St. Mary's series. This time it appears that Max has gone too far and everyone is paying the price. She finds herself grounded until the universe grinds to a halt — can she ever make amends?
War Factory by Neal Asher (Tor Books)
War Factory is the second volume in Neal Asher's Transformation series, following on from the events in Dark Intelligence. Penny Royal is a wanted AI, Thorvald's Spear think's Penny is responsible for leaving him to die and killing thousands of his comrades and is seeking revenge. The alien prador Sverl needs to make sense of his own transformation and needs Penny's help. As Spear and Sverl hunt Penny all roads seem to diverge to a long-missing War Factory station, a station that gave birth to Penny's twisted intelligence.
Stranger of Tempest by Tom Lloyd (Gollancz)
Stranger of Tempest is the first novel in The God Fragments series by Tom Lloyd. A mercenary with a sense of honour, Lynx is rarer than a politician who keeps him promise. He is weary of the many skirmishes that plague the continents principalities and is failed by the nation he served. Little could persuade Lynx to join a mercenary group but a kidnapped girl might, especially as the other mercenaries are cleverer than most he's met. So long as there are no surprises or hidden agendas along the way, it should work out fine.
June
The City of Mirrors by Justin Cronin (Orion)
The City of Passage is the 3rd and final novel in the Passage series by Justin Cronin, following on from The Passage and The Twelve. The series tells the story of the fall of civilisation and humanities desperate struggle for survival.
The world we knew is gone. What world will rise in its place?"
The Twelve have been destroyed and the hundred-year reign of darkness that descended upon the world has ended. The survivors are stepping outside their walls, determined to build society anew and daring to dream of a hopeful future.
But far from them, in a dead metropolis, he waits: Zero. The First. Father of the Twelve. The anguish that shattered his human life haunts him, and the hatred spawned by his transformation burns bright. His fury will be quenched only when he destroys Amy, humanity's only hope, the Girl from Nowhere who grew up to rise against him.
One last time light and dark will clash, and at last Amy and her friends will know their fate.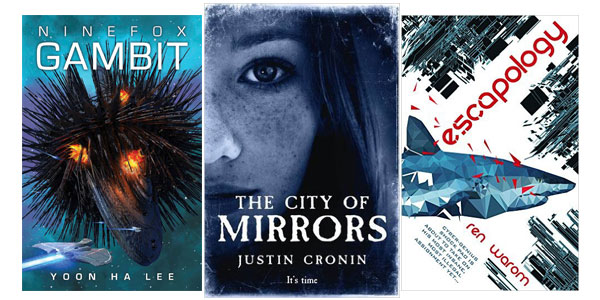 Escapology by Ren Warom (Titan Books)
In the virtual world of "the Slip" Shock Pao is the best there is. There isn't a thing he can't "acquire" for the right price. Out in the real world it's a very different story. no job, no degree and no prospects. That is until his ex offers him work, breaking into a corporate databank. It's either accept the job or sleep on a bench in the cold. Billed as a futiristic post-cyberpunk thriller, Escapology is the debut of Ren Warom.
Infomocracy by Malka Older (Tor Books)
Infomancy is set two decades after nation-states crumbled and gave rise to a globally distributed micro-democracy, overseen by an Information monopoly. The corporate coalition party heritage has won the last two elections and with with another election on the horizon, the Super-majority is in tight contention, and everything's on the line.
As you might have guessed, Infomancy is a political science fiction thriller providing a different insight into one possible future.
Ninefox Gambit by Yoon Ha Lee (Solaris)
Ninefox Gambit is the first novel in the Machineries of Empire series by Yoon Ha Lee. For those who don't know, Yoon Ha Lee is a Korean-American writer who is recognised for his short stories and has been said to be one of the writers helping to move science fiction into the 21st century. His works have appeared in F&SF, Tor.com, and Clarkesworld Magazine amongst others. If Ninefox Gambit is half as good as his short fiction then we may have a contender for book of the year.
False Hearts by Laura Lam (Macmillan)
False Hearts is a novel by Laura Lam and has been described as "Orphan Black meets Inception", to find out more it's probably best to read the blurb:
One night Tila stumbles home, terrified and covered in blood. She's arrested for murder, the first by a civilian in decades. The San Francisco police suspect involvement with Zeal, a powerful drug, and offer her twin sister Taema a chilling deal. Taema must assume Tila's identity and gather information - then if she brings down the drug syndicate, the police may let her sister live. But Taema's investigation raises ghosts from the twins' past.
The sisters were raised by a cult, which banned modern medicine. But as conjoined twins, they needed surgery to divide their shared heart - and escaped. Taema discovers Tila was moulded by the cult and that it's linked to the city's underground. Once unable to keep secrets, the sisters will discover the true cost of lies.
A Green and Ancient Light by Frederic S. Durbin (Saga Press)
A Green and Ancient Light is set in a world much like our own which is experiencing a war that parallels World War II. A boy is sent to his grandmother for the summer in a quite, remote village. The peace is shattered by the crashlanding of an enemy plane, the discovery of ancient ruins behind grandmothers house and the arrival of her friend Mr Giranole — a man who it is rumored knows the true story of Cinderella's slipper.
Spells of Blood and Kin by Claire Humphrey ( Thomas Dunne Books)
Spells of Blood and Kin is the debut novel of Claire Humphrey. Lissa Nevsky is left with a magical legacy when her beloved grandmother dies, including honoring a debt to the dangerous looking stranger who suddenly appears at Lissa's door. It seems that Maksim Volkov needs magic to keep his brutal nature tamed and he's already lost control at least once — his blood-borne lust for violence infecting charming slacker Nick Kaisaris. Nick is out somewhere in Toronto and Maskim must find him before more people get hurt.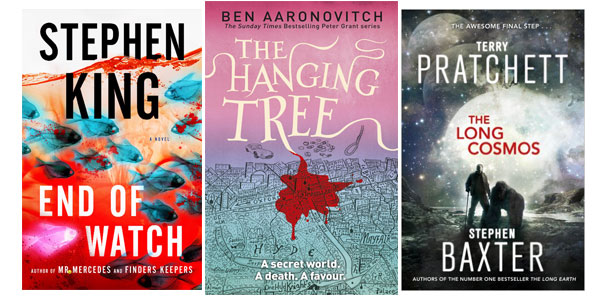 The Hanging Tree by Ben Aaronovitch (Gollancz)
The Hanging Tree is the 6th novel in Ben Aaronovitch's best selling and blooming marvelous urban fantasy Rivers of London series. The Hanging Tree was originally the gallows where marble Arch stands today and back then Oxford street was the green mile of the damned. As you can imagine such a place has a haunted legacy and some of this latent power is returning to the empty Mayfair mansions of the super-rich. It can only be a job for Peter Grant and Nightingale.
The Long Cosmos by Terry Pratchett and Stephen Baxter (Harper)
I believe that this may be the last book by the late Sir Terry Pratchett — the final novel in the Long Earth series, co-written by Stephen Baxter. It's nearly sixty years since "step day" and the new NEXT post-human society continues to evolve.
For Joshua Valienté, now in his late sixties, it is time to take one last solo journey into the High Meggers: an adventure that turns into a disaster. Alone and facing death, his only hope of salvation lies with a group of trolls. But as Joshua confronts his mortality, the Long Earth receives a signal from the stars. A signal that is picked up by radio astronomers but also in more abstract ways – by the trolls and by the Great Traversers. Its message is simple but ts implications are enormous:

JOIN US.

The super-smart Next realise that the Message contains instructions on how to develop an immense artificial intelligence but to build it they have to seek help from throughout the industrious worlds of mankind. Bit by bit, byte by byte, they assemble a computer the size of a continent – a device that will alter the Long Earth's place within the cosmos and reveal the ultimate, life-affirming goal of those who sent the Message. Its impact will be felt by and resonate with all – mankind and other species, young and old, communities and individuals – who inhabit the Long Earths…
The Perdition Score: A Sandman Slim novel by Richard Kadrey (Voyager)
The Perdition Score is the 8th volume in the Sandman Slim series by pen-wizard Richard Kadrey.
The request from Thomas Abbot, the Augur of the Sub Rosa council, couldn't come at a better time for James Stark, aka Sandman Slim. For a man who's most recently met Death a few months of normal life is more than he can handle. He needs a little action, and now Abbott wants Stark and Candy to investigate the disappearance of a young boy?and help uncover council members who might be tied to Wormwood's power brokers.
Stark's plans change when he meets a dying angel who gives him a vial of a mysterious black liquid that could be a secret weapon in the ongoing war between angels who want to allow human souls into Heaven and rebel angels willing to die to keep them out. When one of Stark's closest friends is poisoned with the black liquid, Stark and Candy have to go to the only place where they might find a cure: Hell.
But standing in their way are the damned souls who, even after death, still work for Wormwood. The secret deal they've struck with the rebel angels is darker than anything Stark has encountered. Not only does the fate of the world hang in the balance, but also the souls of everyone in it. Stark has to find a way to break the stalemate in the angel war, score the Perdition cure for the black poison, and make it back to LA in one piece where an old enemy waits to finish him once and for all.
Necessity by Jo Walton (Tor Books)
Necessity is the 3rd and final novel in Jo Walton's Thessaly trilogy. Set 40 years after the events of The Philosopher Kings, it tells of the events on Plato where cities are flourishing and trading with a number of alien species. Then, on the same day, two things happen. Pytheas dies as a human, returning immediately as Apollo in his full glory. And there's suddenly a human ship in orbit around Plato — ­­a ship from Earth.
Heart of Granite: Blood and Fire by James Barclay (Gollancz)
Heart of Fire is the beginning of a new series by James Barclay, set in a world of nomadic fantasy nations warring over diminishing resources.
End of Watch by Stephen King (Hodder & Stoughton)
End of Watch is the final episode in the Hodges Trilogy, preceded by Mr Mercedes and Finders Keepers. It sees retired detective Bill Hodges back on the trail of his nemesis The Mercedes Killer.
The Wheel of Osheim by Mark Lawrence (Harper Voyager)
The Wheel of Osheim is the 3rd novel in Mark Lawrence's Red Queen War series, following on from events in Prince of Fools and The Liar's Key.
All the horrors of Hell stand between Snorri Ver Snagason and the rescue of his family, if indeed the dead can be rescued.
For Jalan Kendeth getting back out alive and with Loki's Key is all that matters. Loki's creation can open any lock, any door, and it may also be the key to Jal's fortune back in the living world.
Jal plans to return to the three Ws that have been the core of his idle and debauched life: wine, women, and wagering. Fate however has other, larger, plans…
The Wheel of Osheim is turning ever faster and it will crack the world unless it's stopped. When the end of all things looms, and there's nowhere to run, even the worst coward must find new answers.
Jal and Snorri face many dangers – from the corpse-hordes of the Dead King to the many mirrors of the Lady Blue; but in the end, fast or slow, the Wheel of Osheim will exert its power.
In the end it's win or die.
Babylon's Ashes by James SA Corey (Orbit)
Babylon's Ashes is the 6th novel in James SA Corey's The Expanse series. With the series now being turned into a TV show by Syfy it's getting a deserved amount of exposure. It is space opera at its finest a deserves a new audience.
July
The Thorn of Emberlain by Scott Lynch (Gollancz)
The saga of the Gentleman Bastard is critically acclaimed by some of the finest fantasy authors alive today. It's a part of the rich fantasy landscape and we are finally going to be treated to the next chapter by Scott Lynch. Hold your breath, The Thorn of Emberlain is going to be one hell of a book.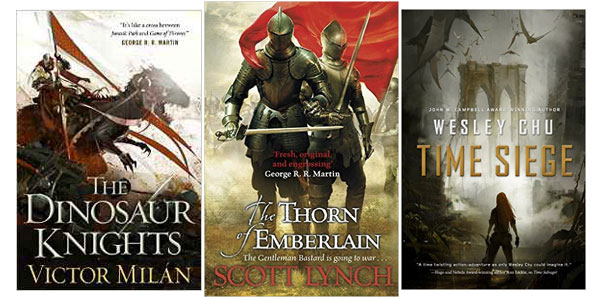 The Dinosaur Knights by Victor Milán (Tor Books)
The Dinosaur Knights is the sequel to The Dinosaur Lords by Victor Milán. The series is ultimately Knights riding Dinosaurs. They go into battle all armoured and trained for war. Not much more you need to know!
Assassin's Fate by Robin Hobb (HarperVoyager)
Assassin's Fate is the concluding novel in Robin Hobbs The Fitz and The Fool Trilogy, following on from Fool's Assassin and Fool's Quest.
Time Siege by Wesley Chu (Tor Books)
Time Siege is the second volume in Wesley Chu's Time Salvagers where Earth is largely a wasteland with small pockets of habitation. James Griffin-Mars has been haunted by his past and enslaved by the present — he is going to take control of the future. He has allies such as Elise Kim who believes she can renew Earth, Grace Priestly who invented time travel and Levin, James's mentor — not forgetting the Elfreth (a population of the downtrodden who are desperate for a better life). James also has powerful enemies though, some of which will stop at nothing to see his head on a spike.
The Family Plot by Cherie Priest (Tor Books)
The Family Plot by Cherie Priest is a new take on the classic haunted house story. Cherie Priest is an award winning author and a natural story-teller. It will be fascinating to see what she does with this horror story.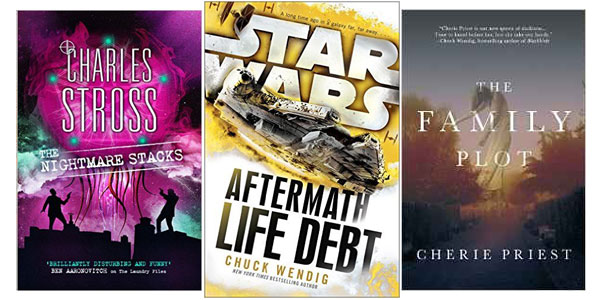 Summerland by Hannu Rajaniemi (Gollancz)
Summerland is a new stand-alone novel from the award winning author Hannu Rajaniemi. The Quantum Thief (his first book) was different and modern and all things future — bleeding edge fiction, as described by some — a theme that continued through The Fractal Prince and The Causal Angel.
Summerland is an alternative history story set in 1958. World War II never happened because in the 1930's the armies of the afterlife (known as Summerland) conquered the world of the living. The leaders of the Army — known as the Summerlords — rule with an iron fist. A gifted young medium and a bastard daughter of Harry Houdini discover a map of the Other Side that could break their power. But how do you start a revolution against rulers you cannot escape even in death?
The Nightmare Stacks by Charles Stross (Orbit)
The Nightmare Stacks is a novel in Charles Stross's long running Laundry Files series — dealing with Britain's only counter-occult secret agency. Alex had a promising future until he unwittingly became a Vampire and agreed to join the Laundry. His first assignment takes him to his home town of Leeds and the thought of telling his parents he lost his job is causing him more grief than preparing to confront an apocalypse or two.
Star Wars Aftermath: Life Debt by Chuck Wendig (Lucas Books)
Chuck Wendig was one of the few authors who has been tasked with filling a little of the 30 year gap between Return of the Jedi and The Force Awakens. Originally he was just going to be writing on book — Star Wars Aftermath, however since he did such a damn fine job he's now writing a whole trilogy. There isn't much to find out about this second novel in that trilogy other than the Millenium Falcon appears on the cover which I'm hoping will mean a great deal more about Han and Chewie's mission mentioned briefly in the first book.
August
The Last Days of New Paris by China Miéville (Del Rey)
The Last Days of New Paris is less a novel and more a novella. Set in an alternative Paris during June 1940, it tells the tale of an Air-Bel dissident deciding that the best way to fight the Nazi's would be with a surrealist bomb. When the bomb detonates accidentally a surrealist Cataclysm sweeps Paris and transforms it according to a violent, weaponized dream logic. Sounds even stranger than the authors usual stuff. Miéville also has another book on this list called This Census Taker which once again is more novella length.
Death's End by Cixin Liu (Tor Books)
Death's End is the 3rd and final book in the quite incredible Three-Body Trilogy by Cixin Liu which began with The Three Body Problem and Dark Forest.
Half a century after the Doomsday Battle, the uneasy balance of Dark Forest Deterrence keeps the Trisolaran invaders at bay. Earth enjoys unprecedented prosperity due to the infusion of Trisolaran knowledge. With human science advancing daily and the Trisolarans adopting Earth culture, it seems that the two civilizations will soon be able to co-exist peacefully as equals without the terrible threat of mutually assured annihilation. But the peace has also made humanity complacent.
Cheng Xin, an aerospace engineer from the early 21st century, awakens from hibernation in this new age. She brings with her knowledge of a long-forgotten program dating from the beginning of the Trisolar Crisis, and her very presence may upset the delicate balance between two worlds. Will humanity reach for the stars or die in its cradle?
The Obelisk Gate by NK Jemisin (Orbit)
The Obelisk Gate is the second book in the Broken Earth fantasy series by Hugo award winning author NK Jemisin, following on from events in The Fifth Season.
I Am Providence by Nick Mamatas (Night Shade Books)
You can be sure of something completely different and off-the-wall with Nick Mamatas and the premise behind I Am Providence doesn't dissapoint. Every year people gather to celebrate the late, great author HP Lovecraft.
When Horror writer Colleen Danzig turns up for the first time she realises that it isn't just scholars, fans and literary critics that are present but also nutjobs looking for books bound in real human skin and even those who believe they have the power to summon the great Elder God Cthulhu (all bow to Cthulhu by the way). Things take a turn for the worse when her annoying room mate turns up dead with her face missing and yet no-one seems to care. Everyone at the convention would appear to be a suspect and only Colleen seems bothered to investigate.
Invasive (Myrmidon) by Chuck Wendig (Voyager)
Invasive (originally called Myrmidon) by the superbly talented Chuck Wendig is set in his paranoid world of the electrifying Zeroes. It's about an FBI futurist named Hannah Stander investigating a dead body in a cabin in upstate New York.
September
Stiletto by Daniel O'Malley (Head of Zeus)
Stiletto by Daniel O'Malley is the sequel to The Rook and follows the adventures of Rook Myfanwy Thomas as she tries to prevent an all-out supernatural war against The Checkquy (Secret organisation protecting the Earth from supernatural threats) by their oldest enemy The Grafters.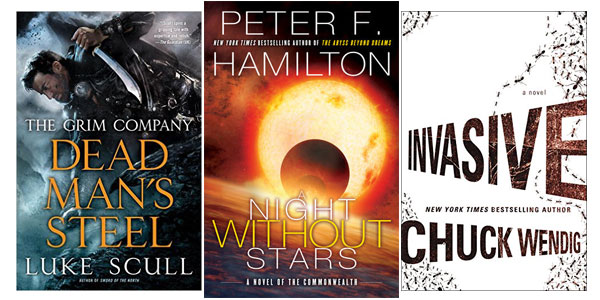 Night Without Stars by Peter F Hamilton (Gollancz)
Night Without Stars is the second and much anticipated volume in the Commonwealth: Chronicle of the Fallers series, following on from The Abyss Beyond Dreams, where Nigel Sheldon, founder of the Commonwealth, crash-landed on a planet no-one even knew existed.
Crosstalk by Connie Willis (Gollancz)
Crosstalk is a science fiction romance comedy story by the award winning author Connie Willis. In the near future an EDD procedure allows people to sense each others feelings while Apple are poised to deliver a new product that is one step ahead. The lines between technology and social media, privacy, personal and public blur in an all too realistic way.
October
Certain Dark Things by Silvia Moreno-Garcia (Thomas Dunne Books)
Certain Dark things is the second novel by Silvia Moreno-Garcia, following her critically acclaimed novel Signal to Noise. Combining elements of Latin American mythology and Vampires, certain dark things promises to be very different to any Vampire story you may have read before (and likely free of drippy, teen-ridden angsty undead).
The Lost Metal by Brandon Sanderson (Gollancz)
The Lost Metal is the 7th novel in Brandon Sanderson's epic series Mistborn. Even the title is yet to be 100% confirmed though, as such details are sketchy at best.
The Stars are Legion by Kameron Hurley (Saga Press)
The Stars are Legion is a stand alone science fiction novel by talented author Kameron Hurley. It tells the tale of two feuding families fighting to gain control of a host of Worldships sent out past the edges of known space.
November
Heartless by Marissa Meyer (Macmillan)
Heartless is the second book that Marissa Meyer is publishing this year and it's the 6th book in the Young Adult series The Lunar Chronicles. The series is a modern, futuristic re-telling of classic fairy tales, so far including Cinderella, Little Red Riding Hood, Rapunzel and Snow White.
December
Dead Man's Steel by Luke Scull (Roc)
Dead Man's Steel is the 3rd volume in the Grim Company series by Luke Scull, an epic fantasy series that's full of gripping action, godly powers and legendary warriors.