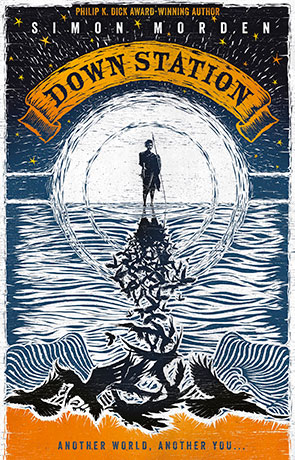 Book details
Down Station

Publisher:

ISBN:

978-1473211452

Published:

February 2016

Pages:

352

Format reviewed:

Paperback

Review date:

04/03/2016

Language:

English

Age Range:

N/A
About the author
Down Station is actually a real station on the London Underground. You can't however visit this place though, the Trains don't stop there and if you're lucky you can but catch a glimpse of it between Green Park and Hyde Park Corner on the Piccadilly Line. You can see the outside of this abandoned station on Down Street. Anyway This station is where the story begins following some destructive force that rips through the London Underground.
After stepping through the station door the survivors find themselves in a place far away from London, a place that doesn't even seem to be in the same world. This is a world far removed from the hustle and bustle of London — without any trappings of modern life and seemingly sparse population. It isn't long before these survivors realise just how different this new world really is.
Down Station is an alternative reality adventure, also known as a "portal" novel where those of our world find a doorway to another world or dimension. Like most portal novels the new world has very different rules to our own reality with strange people and even stranger rules.
One of the things that really makes this story stand out are the protagonists, a mixed bunch of people thrown together in adversity. Mary is an ex-con with anger-management issues who is trying her best to behave and not screw up. Dalip is a trainee engineer, a good person who always do whats expected of him. The main story focuses on the events surrounding these two, Mary meeting a strange man known as Crows who see's potential in abilities that she doesn't know she has.
Dalip is forced to fight in an Arena and is taught by the mysterious fellow survivor Stanislav to survive. Stanislav is the only other character that gets much depth and even then he's kept as an enigmatic European with little knowledge of how he manages to posses such deadly skills.
One of the messages of the novel is that of freedom, Mary freedom from her past while Dalip is free from his parents influence. There is also of course the freedom from modern life, from the day to day slog and the fast, often relentless rat race that the 21st century expects. Then there is the freedom to control you own destiny, to control the events around you and to be the person you want to be. The world of Down Station responds to people's desires, thoughts and actions — the magic of the world can shape that person and even shape the buildings around them.
Of course that sort of freedom, that sort of power doesn't come without a price, without responsibility. What you do with such ability is the flip side of unfettered freedom. It's through these character transformations that we explore the world and move through the fast-paced story. It's a remarkably rewarding and easy read although it does very much feel like the start of a journey and a little incomplete because of this. The secondary characters are left in the shadows behind Dalip and Mary and I would like to see more of the other people who add colour to this world.
The writing is engaging and rewarding, there is no wasted space and the story moves forward consistently. The worldbuilding is fairly minimal and along with the characters I'm actually quite eager to learn more about this strange world.
Down Station is a promising start, fresh and wonderfully written fiction that just begs to be continued...
Written on 4th March 2016 by Ant .
You may also like