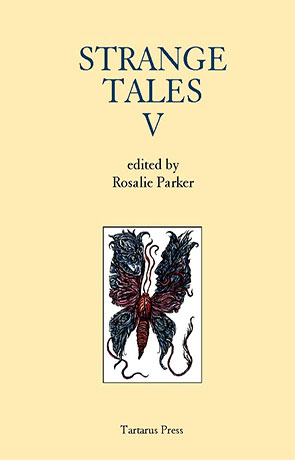 Book details
Strange Tales V

Publisher:

ISBN:

B00YZ0NK1M

Published:

June 2015

Pages:

240

Format reviewed:

Paperback

Review date:

19/06/2015

Language:

English

Age Range:

N/A
World Fantasy Award winning series Strange Tales has now reached its fifth volume, offering again a bunch of tales ranging from SF to horror, from fantasy to supernatural, sharing a "strange" or "weird" character.
The present book includes sixteen brand new stories, penned by authors from both sides of the ocean, selected by editor Rosalie Parker and published by British excellent imprint Tartarus Press, well known for the quality of both its literary output and its always elegant production.
All the contributions are worth reading, but the privilege of a reviewer is to choose which ones he deems to be the most accomplished and remarkable and that's what I am going to do.
First of all I want to single out what, in my opinion, is the highlight of the anthology, LS Johnson's "Julie" an exceptionally strange but exceptionally good story portraying the life a girl unwillingly turned into a whore. The tale magically blends sex, literature, history and lycanthropy in an offbeat, intoxicating mixture.
Other excellent pieces must be mentioned. "The Taxidermist's Tale" by Tara Isabella Burton is a cruel, beautiful fable featuring an old taxidermist very fond of animals, engaged in fulfilling an order to stuff a white wolf.
In David Rix's offbeat "Henge" a couple moved into a London flat is haunted by the mind games of the previous tenant, a dead girl who was partly scientist and partly artist, a true follower of the bizarre.
In "Purses" by Nathan Alling Long, a fine example of classy psychological horror, an elderly lady's obsession with purses gets transferred to her only daughter, whilebin the enigmatic, fascinating "McBirdy" old school memories gradually acquire a nightmarish character.
Tom Johnstone contributes "Look for the Place Where the Ivy Rises", a very disquieting piece of horror fiction about an ivy growth concealing ancient, dangerous secrets.
In brief, an interesting anthology assembling a number of fairly good tales and some top notch contributions.
Written on 19th June 2015 by Mario Guslandi.
You may also like