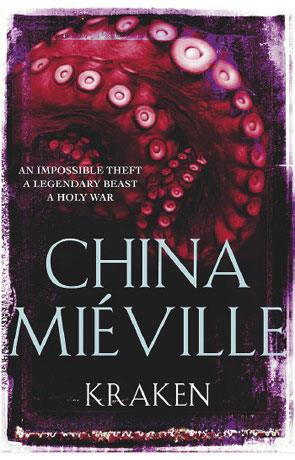 Book details
Kraken

Publisher:

ISBN:

9780330492324

Published:

May 2010

Pages:

400

Format reviewed:

Paperback

Review date:

20/06/2012

Language:

English

Age Range:

N/A
Awards won
About the author
Kraken is essentially "grown up" urban fantasy - and when I say grown up I don't mean littered with expletives but with a deal of maturity and written without compromise (as all Miéville's works are). You won't find any soppy vampires or angst ridden werewolves here, Kraken is a complicated mix of myth, reality and alternative reality that infuses the styles of Mervyn Peake with Neil Gaiman (along with a polite nod to Lovecraft) and then shakes everything up in the way that only China Miéville can.
Yes it's unforgiving and as with most of his novels it takes no prisoners at all, if your attention drifts you've had it, if you lose your place you've had it, in the time it takes to recover from a sneeze the plot's moved on and it takes all of your attention to really do the novel justice.
It's all wrapped up in Miéville's exuberant use of the English language and as I've said before there isn't an author writing right now than can match his linguistic eloquence. There is also some very clever use of neologism, most of which are compounds of existing words and there isn't a single time when its use doesn't feel right or causes any confusion, it all adds to this celebration of the written word. This time there is also some subtle humour running just below the surface, which helps to lift the novel and prevent it becoming too serious.
There are some very clever themes running through the novel too, religion and cultism play a large part as does the very idea of conciousness, the form it could take and just what it could actually be.
If your experience of the authors work lies with Perdido Street Station, The Scar or Iron Council (the world of Bas-Lag) then Kraken will however feel quite different, it's a return to his very first novel King Rat in many ways, a story set in a world that is distinctly ours, yet also very different - a fact that is highlighted by the use of real-life pop culture references.
Once it's become clear that this is our London the immersion into a hidden underworld of extreme cultists, secret wars and hidden magic is absolute.
The use of ink has to be mentioned too, the author does a fantastic job of describing this medium that not only makes up part of the Kraken itself but the very words on the page itself.
The protagonist of Billy Harrow, a curator for London's Natural History Museum at the time when the giant squid goes missing - is matched alongside the use of the great city as a central character. This is something that permeates all of Miéville's works to some degree (at least those I have read) but in Kraken this use of a city as a protagonist is re-enforced with the inclusion of the "Londonmancers", a group of diviners who are so close to the city they can literally communicate with the streets and reform the very stone around them. While London has been mythologised on a number of occasions and in a number of different ways (most notably perhaps by Peake, Gaiman and Miéville himself) the London of Kraken feels very different, unique and weird (in a good way).
I'm not going to pretend that Kraken is an easy read, it isn't and clearly hasn't been intended to be, if you are looking for something you can just switch off with then you need to look elsewhere.
It is however a read that rewards you massively for your undivided attention, it's weirdly brilliant and brilliantly weird and I loved every minute of it.
Written on 20th June 2012 by Ant .
You may also like