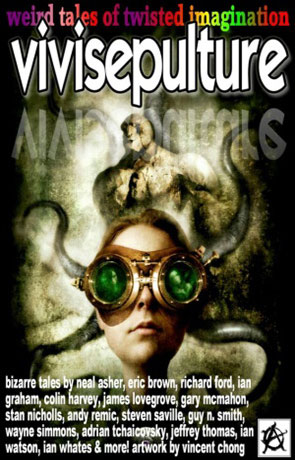 Book details
Vivisepulture

Publisher:

ISBN:

Published:

December 2011

Pages:

Format reviewed:

Hardback

Review date:

27/01/2012

Language:

English

Age Range:

N/A
About the author
Vivisepulture is an ebook collection of weird tales from some seriously talented authors, edited by the singular Andy Remic. (According to the online dictionary Vivisepulture is the act of burying someone alive by the way and you get some odd articles looking that one up on Google I can tell you!).

It has been dedicated to the late author Colin Harvey who was tragically taken away before his time back in August 2011. The book features short stories from authors including Neal Asher, Tony Ballantyne, Eric Brown, Richard Ford, Ian Graham, Angry Robot Lee Harris, Colin Harvey, Vincent Holland-Keen, James Lovegrove, Gary McMahon, Stan Nicholls, Jordan Reyne, Ian Sales, Steven Savile, Wayne Simmons, Guy N. Smith, Adrian Tchaikovsky, Jeffrey Thomas, Danie Ware, Ian Watson (yes THE Ian Watson) and Ian Whates - along with the irrepressible Andy Remic too.

The 22 stories themselves celebrate the weird in all it's disturbing glory, some will shock while others may make you laugh but each one is a work of art and celebrates this often ignored sub-genre. There is quite an eclectic, quirky mix as you may expect from the range of differing styles and voices that make up the contributing authors; this keeps the interest level pretty much stratospheric throughout the collection.

I love the introduction, it sets the scene perfectly and recommends dimming of lights, relaxing into a calm mood with a glass of your favourite tipple and preparing yourself for the immersion into the down-right Weird (yes with a capital W).

Some seriously first class authors are here writing about the weird, which collectively works perfectly and it's a testament to Remic as editor that he has managed to bring so many well written shorts into one pretty much unmissable collection.

It's got everything you could want in a book; Steampunk-esque thugs, Nazi scientists, Zombie gunslingers, creepy undertaker and erm lurid orange snot! (thanks for that one Andy). Some of my favourites include "you always remember your first" by Lee Harris - very creepy with an acerbic humour, Guy N Smith's "Zombie Gunfighter" (which pretty much speaks for itself), Richard Ford's "The Eviscerators" and "Tales from the Zombible" by Ian Watson.
The List in full:
Neal Asher Plastipak Limited
Tony Ballantyne Pretty Teeth
Eric Brown Bukowski on Mars, with beer
Richard Ford The Eviscerators
Ian Graham Rotten Cupid
Lee Harris You always remember your first
Colin Harvey Torturers Moon
Vincent Holland-Keen Caught in the Shadow
James Lovegrove Bible Basher
Gary McMahon Deformation
Stan Nicholls Juice
Andy Remic Snot
Jordan Reyne Wind Project NX104
Ian Sales Wunderwaffe
Steven Savile MetAmorphosis
Wayne Simmons Kitty wants a hitty
Guy N Smith Zombie Gunfighter
Adrian Tchaikovsky Pipework
Jeffery Thomas the Lost Family
Danie Ware The Recruit
Ian Watson Tales from the Zombible
Ian Whates The Devil in the Details
Written on 27th January 2012 by Ant .
You may also like