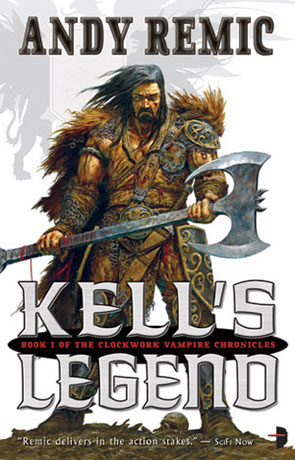 Book details
Kells Legend

Series:

Clockwork Vampire Chronicles

Publisher:

ISBN:

Published:

September 2009

Pages:

448

Format reviewed:

Paperback

Review date:

04/09/2009

Language:

English

Age Range:

N/A
Books in the series
About the author
Kells Legend is the first volume in the Clockwork Vampires Chronicles and has been written by Andy Remic.

Without warning came the vast albino army, the army of iron, invading Falanor from the north. To have any hope of survival a small band set off to warn the King. The band leaves quickly and with it a living legend, the mighty warrior Kell. Joining Kell is his granddaughter, Nienna and her friend, Katrina along with Saark, the ex-Sword Champion of King Leanoric who is in disgrace after an affair with the queen.

The group fight their way south and are attacked from all sides by deadly Albino soldiers, clockwork vampires who drain the blood of their victims.

As the land of Falanor comes under brutal attack by the unstoppable invaders Nienna learns the truth about grandfather Kell – that he is anything but a noble hero, anything but a Legend.

The clockwork vampires have bled their own country dry and must seek new blood to sustain their empire. Their society has evolved from the technological advances they have made in clockwork, managing to merge human and machine to create a lethal combination.

To sustain this cyborg symbiosis of machine with flesh they must consume refined blood or "bloodoil" and this has become a kind of addiction for them, creating a need to hunt and consume to get their fix.

Kells Legend is loosely based on the traditional fantasy story, brave but world weary warrior type who just wants to retire from any bloodshed and finds himself forced to use his talents of destruction. This standard fantasy fare is written with great style and really pays homage to the late great fantasy author David Gemmell. In particular I am reminded of my favorite of Gemmell's characters "Druss the Legend".

This tradition though is then bashed on the head and burried 6 feet deep with inclusion of the clockwork vampires creating a blend of fantasy horror and fantastic fight scenes. I mean really top quality fight scenes. One of Gemmell's most redeeming qualities as an author was his ability to write about fighting and war to such a degree that you almost felt like rushing through his novels to get to those bits.

Kells Legend fight scenes live up to this quality and elevate the novel way above the standard fare. Kells Legend is a novel of power and scope, able to stand as a worthy successor to the Gemmell crown.
Written on 4th September 2009 by Ant .
You may also like