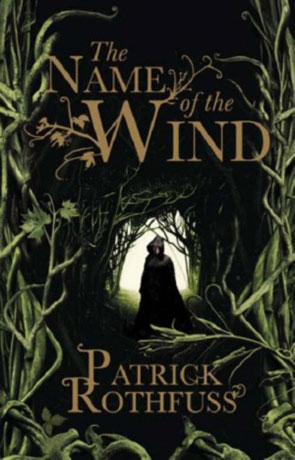 Book details
The Name of the Wind

Series:

The Kingkiller Chronicle

Publisher:

ISBN:

Published:

March 2007

Pages:

662

Format reviewed:

Paperback

Review date:

12/03/2010

Language:

English

Age Range:

N/A
Books in the series
Awards won
About the author
The Name of the Wind is the first volume in the Kingkiller Chronicles and tells the story of the notorious wizard Kvothe. After gaining his reputation at a very young age with included being expelled from university younger than most who are allowed in, talking to gods and writing songs, he dissapeared.

Kvothe's dissapearence only heightened his legendary status and increased the rumors until the Chronicler managed to track him down in a backwater Inn.

After much persuasion, Kvothe agrees to tell the Chronicler his life story, a task which Kvothe advises will take 3 days.

Kvothe's first-person narration is occasionally punctuated by interludes, during which it becomes clear that someone is looking for Kvothe. Bast who is Kvothe's apprentice (and friend) is unwilling to let the Chronicler tell all of Kvothe's story, and so the story thus proceeds on two levels, as we learn how Kvothe came to be the man he is now, whilst other events take place in the present, hinting at a greater story to follow.

Patrick Rothfuss is quite clearly a master story teller, this novel has that magic hook that keeps you reading to the very end. Forget sleep, forget work or anything else, this novel will not let you surface until it has told is rich and rewarding story.

The Name of the Wind is an incredible novel and Patrick Rothfuss spins a believable, plausible story rich with character and depth, priceless and one of my all time favourite novels.
Written on 12th March 2010 by Ant .
You may also like