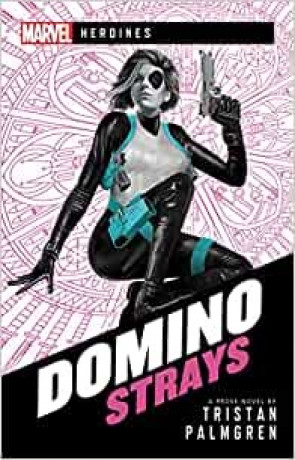 Book details
Domino: Strays

Series:

Marvel Heroines

Publisher:

Aconyte Books

ISBN:

9781839080500

Published:

October 2020

Pages:

352

Format reviewed:

E-Book

Review date:

06/10/2020

Language:

English
Books in the series
As a superhero fan, the last couple of decades have been fantastic. The comics have had countless film adaptations and prose novels. This abundance of content has allowed content creators to explore the idea of superpowers more. We are no longer in the age of Gods, when Superman fought other improbably enemies above our heads. Now there are those with powers that are not so different from us. Are we good or bad? Most of us are a bit of both and given an ability we may decide to look after ourselves, rather than others. With luck, our skills would be useful when working as a mercenary.
Domino cannot control her luck, but she can rely on it to help should she find herself in a tricky situation. Whilst you and I would fall of a building and die, she would luckily land on a tarpaulin – hurt, but alive. With this luck she has become successful mercenary and the latest job is to rescue a brother and sister from a cult. The mission brings back memories of why Domino became a gun for hire, but these memories are spotty. Is this due to the trauma she suffered or a deliberate act by enemies unknown?
The Marvel X-Men universe is an expansive one and has room for all types of mutants, plenty of which have no interest in being a member of the X-Men. Domino is one such mutant who lives on the fringes of society applying her skills to those willing to pay. Being able to explore the grey areas of mutant life is what makes Domino a joy and Domino: Strays by Tristan Palmgren acts like a primer for the character. She may not be the best-known character in the Marvel Universe, but rest assured that by the end of this title you will have a good sense of her motivations.
Strays is told from the perspective of Domino herself and jumps between three distinct timelines; her present mission, her time in an experimental laboratory and its aftermath, and a mission some years earlier that did not go quite to plan. All three storyline elements play into one another and give you a real sense of why Domino ended as she did. As she is narrating the tale, the book leaps into the past when it makes the most sense as her current situation causes her to reflect.
Leaping around narratively in time and sticking to a single perspective means that Strays is very character driven. The book becomes an origins story and acts as the perfect starting point for any other novels in the series that may come out. As someone who has seen countless origin movies and read a few books about beginnings, they can be a little formulaic. Strays avoids this as Domino is more from the irreverent Deadpool school of story taking. The book may be an origins story, but the tone is that of a confident mutant who is more settled in their skin.
The balance of proceedings leans more towards character development than action, but there are thrills to be had. There are some set pieces that showcase Domino's mutant power of luck and they are unlike any other power in the Marvelverse. Also refreshing was the down to Earth missions that Domino undertakes. She leaves alien invasions to The Avengers and is intent to settle on more human nemeses. This gives both the character and book a far more grounded feel and Domino is a lot more relatable than most superheroes/mutants.
With its strong emphasis on developing Domino's backstory, Strays is a book that origin fans will enjoy the most. Those that like to leap straight into the action may have to wait until book two, but they will benefit greatly from knowing more about the character. This is a flawed hero that every reader can get behind.
You may also like