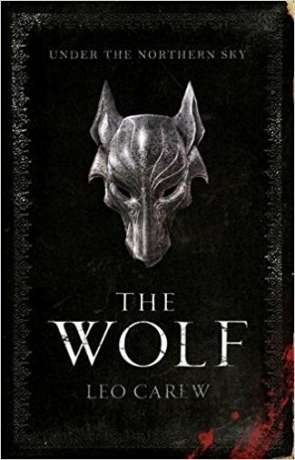 Book details
The Wolf

Publisher:

ISBN:

978-1472247001

Published:

April 2018

Pages:

480

Format reviewed:

Paperback

Review date:

22/03/2018

Language:

English
The Wolf is the debut of Leo Carew, a graduate of Cambridge University with a degree in Biological Anthropology, specialising in the Palaeolithic.
The authors knowledge and perspective colours the story, providing a rich and detailed backdrop of an alternative world that somewhat resembles the Viking Era. The northern lands of Albion are inhabited by a long lived race of giants known as the Anakim. Measuring their lives in centuries, the Anakim relish the harsh conditions of life under the Northern Sky. These giants are warriors to the core, going into battle wearing almost inpenetratable bone armour and weapons forged of Unthank silver.
To the south, seperated by the great Black River, lies the Anakim's enemy - the southerners. While a fragile peace exists between the two races, the southerners are much more hasty and short-lived than the Anakim. They live in constant fear that the Anakim will attack their kingdom and decide to pre-emp such a war. In one of the first battles the Anakim leader - the Black Lord - is killed, throwing the whole kingdom into chaos and leaving his young son Roper to rule.
Uvoren, one of the Anakim's most accomplished soldiers wants to rule instead, threatening civil war. Roper must find a way to prevent his society being torn apart, deal with Uvoren's grab for power and prevent the southerners from destroying whats left of the kingdom.
Another day, another fantasy world. While the description above might sound like a run of the mill novel, the Wolf feels anything but. It grimdark in nature, with a gritty feel and bloody descriptions but it's tone is unique. The majority of the book is set from the viewpoint of the long-lived giants rather than the more human southerners and these Anakim are quite alien in nature.
This doesn't extend to the politics however which feels all too human with lots of subterfuge and sabotage. It also doesn't extend to their views on equality either. Strangely for a warrior race, only the men are allowed to fight while the women have to rely on manipulation and political machinations.
The story is engaging, if a little predictable, but the pace is uneven making the book seem longer than it really is - especially with some of the drawn-out political manouverings. Problems with pacing aside, The Wolf is not a bad novel - it is unique in tone and the perspective somewhat refreshing - I found myself rooting for the Anakim over the treacherous and weak-willed humans, although I found it difficult to relate to the protagonist. The ending is rewarding and worth getting through the slow bits for, with a nice setup to continue the story.
If you like epic fantasy with a fair does of political intrigue then The Wolf is for you.
Written on 22nd March 2018 by Ant .
You may also like