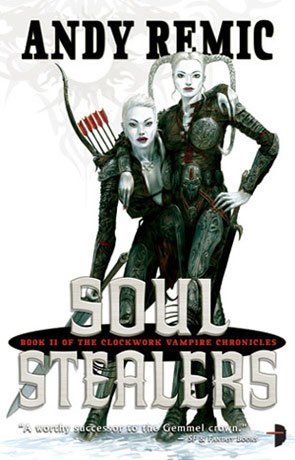 Book details
Soul Stealers

Series:

Clockwork Vampire Chronicles

Publisher:

ISBN:

Published:

October 2010

Pages:

448

Format reviewed:

Paperback

Review date:

10/10/2010

Language:

English

Age Range:

N/A
Books in the series
About the author
Soul Stealers is the sequel to the Andy Remic Epic novel - Kell's Legend, and the second volume in the Clockwork Vampire Chronicles.

The indomniable Kell is still being hunted by the evil clockwork vampires and to make matters worse, he is now being tracked by two beautiful but deadly female vampire assassins.

To say I have been looking forward to this book would be a vast understatement, after the fantastic cliff hanger ending in Kell's Legend, i've been waiting to see just how Andy Remic would manage to extract Kell and co from what appeared to be a very sticky situation.

Soul Stealers begins right where Kell's Legend finished and continues in the same fast, unrelenting pace with even more spectacular fight sequences and unflinching no-holes barred action. Kell and Saark continue their journey to rescue Nienna and prevent Kell's untimely demise but it's clear that there's a much bigger stake at play.

There is a good deal of broader world building along with more understanding of the events at play, and we get more back-story of Saark's hedonistic history along with a greater insight into Kell's dark character. An ageing warrior who's psychotic temper is barely kept in check and who just isn't really a very nice person but is constantly striving to be better. We also get a greater understanding of his bond with the living weapon Ilanna and the influence this has over Kell. This dark hero / anti-hero role is just great and a nice change from the whiter than white antagonist so often found in fantasy fiction. Even better is the clear animosity between Saark and Kell and the caustic wordplay is great.

The fairly straight forward plot of the first novel joins a number of sub-plots with plenty of twists and turns however it's still a fairly uncomplicated story at heart, as intended and which works very well. A mention also has to go to the fight scenes and gore level, this was one of the best parts of the last book and it's been taken up a notch here - the fight scenes are just superb. In the last book we had a pretty severe cliffhanger ending, here we have a cliffhanger at the end of just about every chapter, and a seriously big finally that means I am eagerly anticipating the continuation of events in the next volume - Vampire Warlords.

Soul Stealers is fast, brutal and above all unmissable, there is quite simply nothing out there that can currently compare to Andy Remic's unrelenting, unforgiving and unflinching style. The new King of Heroic Fantasy has arrived.
Written on 10th October 2010 by Ant .
You may also like