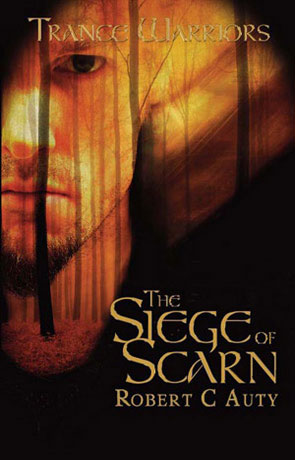 Book details
The Siege of Scarn

Series:

Trance Warriors

Publisher:

ISBN:

9780956236807

Published:

February 2006

Pages:

352

Format reviewed:

Hardback

Review date:

04/07/2010

Language:

English
Books in the series
Awards won
About the author
The Siege of Scarn is the first volume in the fantasy series Trance Warriors, written by Robert C Auty.

It is a time of Chaos in the middle isle, Connor - an outlaw whose family was killed by the Kings own troops finds himself drawn into a fight between good and evil, a clash of Gods that will decide the fate of the Kingdoms. The power of the Evil God Scarl grows daily as he struggles to free himself from the prison created by His brother Scarn and before long Connor becomes Scarn's tool in the fight for the very Kingdom and all that is good in the world. Connor must come to terms with his newly discovered heritage and battle demons both real and personal while he begins to understand what it really means to be a Trance Warrior.

The Siege of Scarn pays tribute to one of my personal favourite authors, the Late David Gemmell with a strong narrative, sweeping plot and an epic story arc. The siege of the title pays homage to David Gamell's arguably most famous character, Druss the legend and the Drenai fortress of Dross Delnoch (from the novel Legend). Taking up nearly half the novel, The battle itself is incredible, describing an epic siege that Druss himself would be proud to be a part of while the invading army is closely modelled on that of the Roman legion (the most effective fighting force ever known).

In addition to this epic fight, there are Gods themselves at work manipulating events towards their own ends while the principle protagonist Connor is the anchor pin holding the siege together. The characters are well described and fairly likeable, Connor the reluctant hero, Janice the troubled leader of outlaws (also with a hidden lineage), the tough as old nails Dwarf King and the enigmatic Scarn warrior, while the antagonists are reassuringly evil and sadistic.

The Siege of Scarn is a triumph of heroic fantasy with a fast paced plot and a very easy reading style, the quality of the prose is excellent and the whole book very enjoyable. While this novel may not break any new grounds, if you are a fan of David Gemmell, or simply like well written fiction with plenty of action then you will really enjoy this book.
Written on 4th July 2010 by Ant .
You may also like