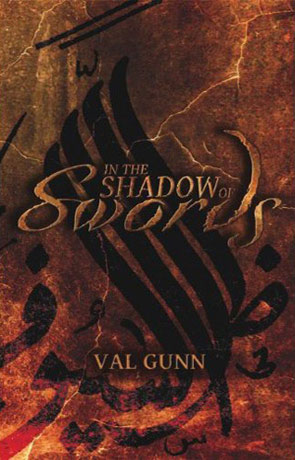 Book details
In the Shadow of Swords

Publisher:

ISBN:

Published:

February 2011

Pages:

342

Format reviewed:

Paperback

Review date:

09/11/2010

Language:

English

Age Range:

N/A
In the Shadow of Swords is the first volume in the Tales of Ciris Sarn by Val Gunn.

When the legendary killer Ciris Sarn ends a life in an empty city plaza with a single dagger thrust, little does he know that an insidious game has been triggered by the brutal slaying. Turning predator into prey, this part fantasy, part espionage novel races along as it follows the now hunted Sarn across the brilliant white sands and sparkling seas of Mir'aj, pursued by the widow of his latest victim who will stop at nothing for vengeance.

In the Shadow of Swords has a very distinctive feel to it, blending middle eastern settings in a medieval time period and set in a world of demons and magic. A dark and dangerous plot blends with this richly described landscape to deliver a unique feel and a refreshing change to the high fantasy setting. The book sets the pace right away with a savage murder by a highly trained assassin and the pace doesn't really let up from there.

The characters are well detailed and refreshingly human, there's no real hero's here, everyone is painted in shades of grey. The main protagonist is the Assassin Ciris Sarn who is richly portrayed and yet very mysterious, this character really does seal the book as a good read. There isn't a huge amount of world building, enough to give a nice backdrop and develop the feel of the novel but the focus is more on the detailed characters and fast paced story which is told from a number of perspectives and shifts from story arc to story arc very fluidly.

You do have to keep on your toes sometimes to be able to follow these shifts which are somewhat unforgiving but this is offset by the short chapters and very well written prose. Val Gunn is clearly a very accomplished writer and has a distinctive, original and well defined style quite different from anyone else I have read.

The plot itself is a dark, gritty and complex beast and above all very believable, set against an almost real world with fantastical and magical elements nicely underplayed.

In the Shadow of Swords is refreshingly different novel with a gritty realistic setting and darkly detailed characters, reccomended.
Written on 9th November 2010 by Ant .
You may also like