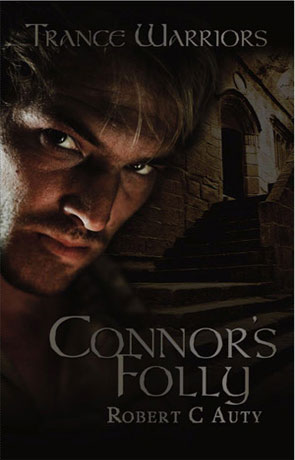 Book details
Connors Folly

Series:

Trance Warriors

Publisher:

ISBN:

9781846243967

Published:

March 2010

Pages:

240

Format reviewed:

Hardback

Review date:

18/07/2010

Language:

English

Age Range:

N/A
Books in the series
About the author
Connors Folly is the second volume in the Trance Warriors fantasy series by Robert C Auty, following on from the Siege of Scarn.

The epic siege is finally at an end the new Grynn King is tasked with taking the fight to the enemy, to do so he must first find the white palace and finish his training as a Trance Warrior. And so Connor leaves his love, his kingdom and his friends in search of the palace, a journey that will take him across the ocean and far from the lands of the Middle Kingdom. Events do not go as planned however and after nearly losing his life crossing the ocean, Connor and his new found companion Akim (a former Askari slave) find themselves battling against undead creatures of night known as Nightwalkers. These Nightalkers are the army of the Blood Emperor Kaitomi's sister Maitoma.

Allied with the fierce and mighty Norsemen, and the battle hardened Banto warriors, Connor must destroy Maitoma before her legions of undead soldiers become too powerful and over-run civilisation on the western continent.

Connor's folly is a departure from the Gemmell / Roman inspired siege of The Seige of Scarn and draws on a whole new range of legends and mythology with Norsemen, Vampire legends and middle age era Knights. There are also a host of new characters, from the evil Maitoma to the enigmatic ex-slave Akim. AS with the previous novel, there is a really great feel to the novel, the narration hooks you from the start and is so easy to read the pages almost turn themselves. The way that Auty manages to seamlessly weave completely different mythologies on different timescales while making the story engaging to the reader is a real skill and one that enriches the novel.

With a fast paced twisting plot and rich larger than life characters, Connor's folly is a compelling journey told in an impressive style and will be loved by any fan of heroic fantasy.
Written on 18th July 2010 by Ant .
You may also like