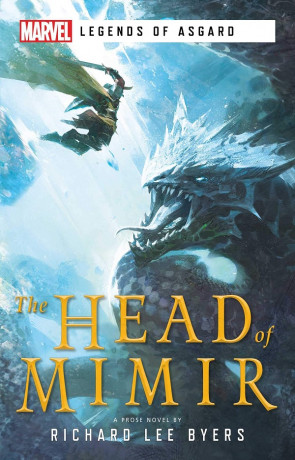 Book details
The Head of Mimir

Author:

Richard Lee Byers

Publisher:

Aconyte

ISBN:

9781839080548

Published:

October 2020

Pages:

352

Format reviewed:

E-Book

Review date:

08/10/2020

Language:

English
Books in the series
The Marvel Universe has plenty of areas to explore, it is not just superheroes. You also have mutants, magic, aliens and so much more. Perhaps one of the hardest elements to get your head around are the Gods of Asgard. Suddenly, the Norse Gods of Odin and Thor are fighting alongside the likes of Iron Man and even Blob. Perhaps they are not Gods after all but powerful aliens from another realm? The Legends of Asgard series gives insight into the Asgardians before we humans even entered the picture.
You may know Heimdall as the keeper of the rainbow road that links the realms, but before he was all seeing, he was once just a young warrior who fought alongside his sister Sif. In their youth, Asgard came under attack from the Frost Giants whilst Odin slumbered. All but Heimdall believed the sleep to be part of Odin's natural cycle. With his sister at his side, Heimdall sets out to prove that Odin has been cursed and discover the whereabouts of the Head of Mimir, an artifact that offers wisdom to those that ask. The siblings start their saga as traitors but will end it as legends.
Saga is the right word to use when describing Richard Lee Byers', The Head of Mimir as it follows the tradition of Norse Tales. The legends of Norse Mythology are epic, and Byers buys straight into this and uses them to his advantage. Who wants a small story set only on Asgard when you can fly on a Pegasus, climb a mythical tree of life, play boardgames with a giant serpent, and sneak through a castle full of giants? Mimir is packed with action and ideas, many of which come from Norse Mythology itself.
There is a sense of perpetual motion in this book as Heimdall and Sif set out to achieve a goal across another world. It has the classic fantasy trope of there and back again on an unexpected journey, but then fantasy itself took this idea from traditional tales such as those of the Norse, Greek or Roman Gods. For readers who enjoy their books pushing ever onwards, they will love the change of scenes and constant new things to enjoy.
There are some moments to breath, but they are few and far between. We learn a little about the relationship between the siblings, but it is mostly set at the start. Where the book shined the most was during the set pieces. Stand out moments include a tense board game with a God like serpent and the Battle for Asgard as the Frost Giants beat against the walls. In these moments you get a sense of the epic tales of old, of Gods and Monsters. It was refreshing that no humans were involved at all.
Mimir is a book that is not quite fantasy or science fiction, but a mash up of the two genres. The closest I can think of it is as is Action Fantasy. It takes some of the traditional narrative elements of that genre and then adds more action that I have ever read in such a book. For readers who enjoy their fantasy full on and nonstop, this will be a great read.
You may also like