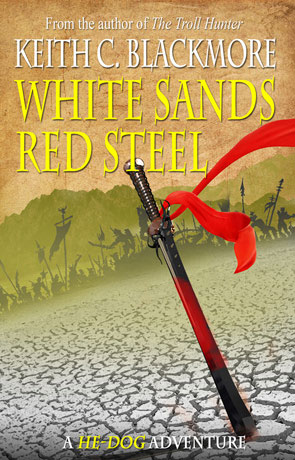 Book details
White Sands Red Steel

Publisher:

ISBN:

Published:

February 2012

Pages:

244

Format reviewed:

E Book

Review date:

18/06/2012

Language:

English

Age Range:

N/A
About the author
He-Dog and Balless are mad, brutal, unpredictable mercenaries, and those are their good points. The remains of this ragtag group also includes the suicidal, one-eyed ex-champion archer Borus and the disfigured but deadly Chop . When they accept a mission that no-one else would touch, they travel the dangerous road south to the mighty city of Foust, where they find the city under siege by a mass army of Beastmen.
No-one in the right minds would attempt to get past such a force, which is fortunate for the city as clearly this band aren't in their right mind in the slightest. Getting in may be utter madness but getting out alive could prove impossible.
In my opinion Keith Blackmore is right up there with the best horror and heroic fantasy writers, his prose has an easy grace and sharp edge that makes reading one of his novels a real joy. White Sands Red Steel is firmly placed within the heroic fantasy genre and joins that small but select group at the top of the game including the Late David Gemmell and the irrepressible Andy Remic. Like many great stories of the genre the whole focus is placed on the siege of the city Foust, surrounded by the combined bands of Beastmen.
Action is descriptive, bloody and fast with great fight scenes and a sense of realism that is quite mesmerising. The larger than life characters of He-Dog's little band are what really give the novel the edge though, each is carefully crafted and beautifully brought to life. You can't help but get drawn in and care for this rag-tag group, and here is where Blackmore really does stand out without too much exposition or world building her manages to build a suitable world for these close-knit mercenaries.
Some mention has to go to the battle right at the start too, a brilliant and brutal fight that sets the scene perfectly for the rest of the novel and ensures the reader doesn't leave their seat for a second.
Later one the portrayal of drug abuse is also just as well thought-out and just as powerful for different reasons. I seriously couldn't put this book down, it envelopes you completely and doesn't let go for the entire journey, incredible writing from a highly talented author and one who I'd love to see on the shelves of the local library and Waterstones. Any fan of Heroic fantasy should consider this an essential purchase.
Written on 18th June 2012 by Ant .
You may also like