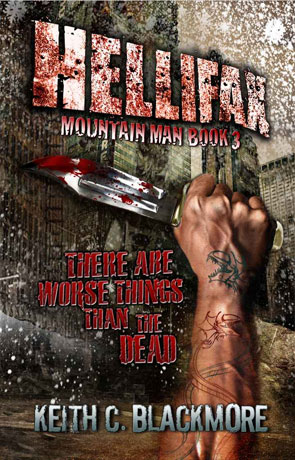 Book details
Hellifax

Series:

Mountain Man Series

Publisher:

ISBN:

Published:

December 2012

Pages:

Format reviewed:

E Book

Review date:

02/04/2013

Language:

English

Age Range:

N/A
Books in the series
About the author
Another episode is the Mountain Man series always brings a degree of eagerness; not only with knowledge that you just know the dialogue will be entertaining but in the authors wonderfully rewarding tone too; Hellifax is no exception.
Gus, the reluctant hero of the previous two Mountain Man novels is having a bit of a rest (if you've read about any of his escapades you won't blame him either) and instead this book follows Scott, the baker turned survivalist who is on the hunt for Tanner; the sociopath responsible for the death of his friends and the bullet scar in his back. It's a brave move to change the lead protagonist and one that works suprisingly well; Scott's much more of an "everyday" man in the street and not quite so OCD as Gus. Both Scott and Tenner make interesting opposing characters and the author does a sterling job of growing them through the story - so much so that you just love to hate Tenner (he makes a fantastic bad guy) and bond with Scott right from the word go. It's a sad fact that characters such as Tanner would likely thrive is a post-apocalyptic world purely due to the character traits of a sociopath.
The introduction of the savage, bloodthirsty Vikings are a great touch (if little gruesome), as is the greater focus given to the "plague" that we were introduced to at the end of Safari (I won't say anymore as I wouldn't won't to spoil it for anyone).
Hellifax manages to move the story forward without treading over old ground, adding to this already rich, decaying post-apocalypse world and introducing some great characters (some of which become killed off later of course). It can quite easily be read as a stand alone novel but I'd still recommend reading the previous two books first - purely due to the fact that they are most excellent.
Mountain Man is without a doubt one of the finest zombie series in existence, it's just so entertaining that it is almost impossible to put down and it doesn't ever pause or stumble or even get in the slightest bit dull. As I've said before it's almost like a survival guide, with much better tips (like wearing armour for one) than most Zombie series I've read. If I didn't know any better I'd imagine the author has first hand knowledge of a zombie apocalypse; either way Hellifax is one hell of a book.
Written on 2nd April 2013 by Ant .
You may also like