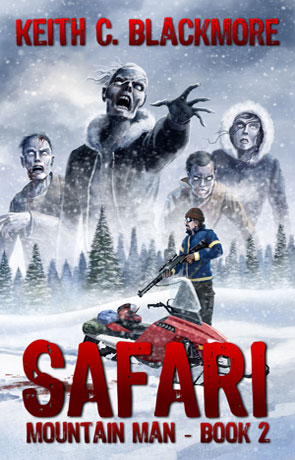 Book details
Safari

Series:

Mountain Man Series

Publisher:

ISBN:

Published:

April 2012

Pages:

188

Format reviewed:

E Book

Review date:

22/08/2012

Language:

English

Age Range:

N/A
Books in the series
Awards won
About the author
We are once again re-united with one of the few survivors in a world infested with the undead. Gus is a little more dishevelled than the last time we saw him, more bruised and a bit more reckless too as his daily existence of waking up, getting drunk and preparing for the inevitable zombie horde begins to take it's toll.
He's also been badly affected by the little altercation he had and can't seem to get Roxanne out of his mind. Nether-the-less he continues to defy fate with his blend of dogged self-determination and resourcefulness, not to mention being a great shot with a gun.
Again Blackmore does an incredible job of describing the loneliness of the survivor and how the social animal would cope when faced with nothing but shambling, rotting corpses for company. The author manages to capture that feeling of solitude and the slipping of sanity that I've only really felt in that spiritual grand-daddy of modern Zombie stories, Richard Matheson's I am Legend. I loved how he also managed to play on the whole zombie apocalypse with a slight tongue-in-cheek approach, Gus being a big fan of the zombie movies and George R Romeo in particular. It's these little touches along with descriptions of otherwise everyday activities that really ground the story and draw parallel's to Matheson's classic.
The story itself is completely immersive and utterly entertaining, an almost meandering affair that focuses on the survival of Gus and his sometime bleak journey. As with the previous book Mountain Man, it's clear that a great deal of thought has gone into creating something that is not only absorbing but is also pragmatic, sensible. At the same time though there is a great deal of fun too and the ideas explored are simply genius.
The ending also has to be mentioned, pretty tense and gripping while at the same time very rewarding, the danger that the author introduces towards the end of the novel is simply inspired and I kicked myself for not having thought of it before. The author really plays on this tension to great effect and I couldn't have thought of a better finale to the novel. The character of Gus is masterfully portrayed, clearly suffering as anyone would from the effects loneliness and living in constant danger while also having to be on guard against those few who have survived. There is a heightened sense of horror to Safari, especially later on in the book and this creates a richly dark atmosphere.
Keith Blackmore is becoming one seriously fine author and each new novel is pretty much unmissable, anyone who loves a good Horror story should check out his work.
Written on 22nd August 2012 by Ant .
You may also like