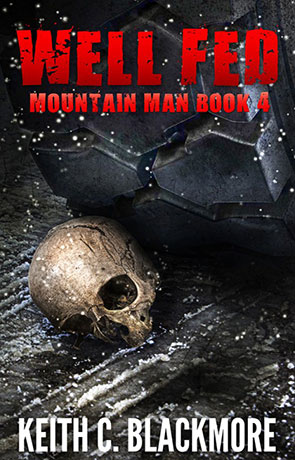 Book details
Well Fed

Series:

Mountain Man Series

Publisher:

ISBN:

B00PY8IA78

Published:

November 2014

Pages:

485

Format reviewed:

E Book

Review date:

16/02/2015

Language:

English

Age Range:

18-
Books in the series
About the author
After all the years spent fighting off the Zombie hordes in isolation at his home in Annapolis, Gus has finally found a new life of peace. A daily routine of tending and policing the fields of the little community, rarely interupted by shambling corpes. It seems the epidemic is finally beginning to burn out.
While the Zombie threat may be abating there are always those savages and roaming bands of mauraders who seek to take advantage of life in the new world. Before long Gus is asked to help search for a group of missing scavengers. Reluctant to leave the farm, he none-the-less agrees.
He finds a new horror unleashed upon the land, one determined to harvest every last mortal life.
Blackmore makes a welcome return with the fourth novel in the Mountain Man Series, which is without a doubt one of the finest collection of "survivalist" stories. Blackmore is a storyteller in the truest sense of the word, able create vivid scenes that engage the reader as only few writers can.
One of the series strengths is partly due to Gus, while most Zombie stories seem to involve people with special forces training or naturally gifted combat specialists Gus used to be a decorator. His survival is largely down to a combination of common sense and determination* (*with some help from old Captain Black). He gets kicked as often as he kicks out and makes the mistakes we all probably would if faced with a similair situation. This everyday man on the street which Gus embodies helps the reader to relate to, bond with and ultimately understand when he makes the entirely plausible decisions he does.
The author manages to move the story forward in each of the Mountain Man books more than any other Zombie series and Well Fed is no exception - at this stage it's less of an issue with the Undead but with those still living who are hungry to fill any power vacuum left by the Zombie-led desolation.
Well Fed is an absolute corker of a novel in the finest Zombie series to date. I encourage each and every reader of horror, post-apocalptic fiction and just those who like a good story to seek out the Mountain Man Gus.
Written on 16th February 2015 by Ant .
You may also like