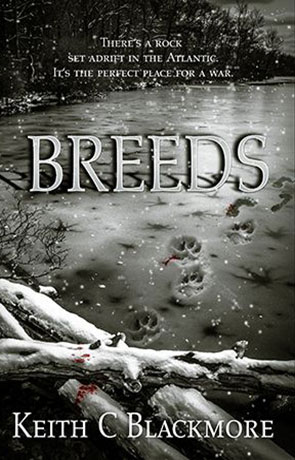 Book details
Breeds

Publisher:

ISBN:

B00IPJIMB2

Published:

February 2014

Pages:

259

Format reviewed:

E Book

Review date:

14/05/2014

Language:

English

Age Range:

N/A
About the author
There are odd things happening in a near deserted coastal village. Strangers are appearing, asking questions about the towns recluse while dogs are dissapearing and a local hunter discovers a naked human footprint in the snow.
With the onset of deep winter things are about to get a lot worse.
Having already written some fine novels in the dark fantasy, herioc fantasy and Zombie genres Blackmore has turned his attention to the Werewolf sub-genre. I love the authors gritty realism, dark humour and powerful voice that permeate all his works and this style works perfectly when dealing with Werewolves.
As a genre, Werewolves are becoming much more popular of late as the interest in Vampires (thankfully) wanes. This does of course mean an increase in the "twilight" style slush but thankfully includes real gems such as Breeds.
There is a wonderful atmosphere about the book, a deliciously dark sense of dread before the frequent explosions of violence and genuine feelings of horror running throughout. Blackmore doesn't waste time on extended exposition or building backstory, we get treated to hints along the way but the importance is firmly rooted on plot and characters.
This leads as with all the authors other books to a very fast pace, little pause and an incredible sense of immersion. The characters are genuine and well rounded but it's the plot that sets the book apart. I've never read a Werewolf story that has been handled in quite the same manner as Breeds, and I've been reading such stories for over 20 years. This suspension of dis-belief is helped by the realistic portrayal of the characters that populate the book, each are flawed in their own way as people are and each react as you would expect someone to - a far cry from many horror stories.
Blackmore injects a great deal of fresh air into this rapidly populating sub genre, not just in style (complete with subtle dark humour) but in the plot too. There are twists and ideas here that are very original and it's all quite convincing.
Breeds is a new breed of Werewolf novel, clever, original and with a story that will keep you hooked from beginning to end.
Written on 14th May 2014 by Ant .
You may also like