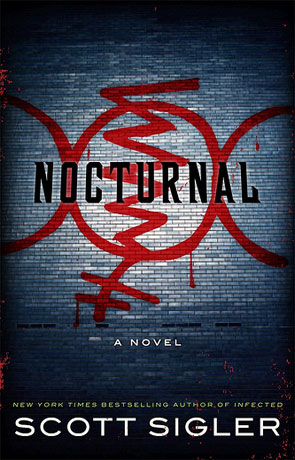 Book details
Nocturnal

Publisher:

ISBN:

9781444700961

Published:

April 2012

Pages:

400

Format reviewed:

Paperback

Review date:

27/04/2012

Language:

English

Age Range:

N/A
San Francisco Homicide detective Bryan Clauser thinks he may be losing his mind. What other explanation could there be for the dreams he keeps having, dreams where he witnesses some really gruesome murders that also happen to be actually carried out all over the city. As he and his partner Pookie Chang investigate these brutal crimes they begin to learn that things are much stranger than first appears.

The victims are all enemies of a seemingly ordinary young boy, a boy who is gripped by the same dreams that haunt Bryan. To complicate matters further a shadowy figure who appears to have superhuman powers is also prowling the street, looking to kill the killers. When even their superiors seem eager to prevent the detectives from discovering the truth Bryan begins to suspect that he has stumbled into the middle of a hidden, underground war, waged by a race of killers living in San Francisco's long forgotten underground ruins and emerging at night to feed.

As Bryan uncovers the truth about his own intimate connections to the killings, he discovers that those who matter most to him are in mortal danger and that he may be the only man gifted (or cursed) with the power to do battle with the nocturnals.

I must admit that I really like Sigler's style of writing, it's just so easy going, friendly and the prose just seems to role off the page. It also keeps you pretty much gripped to the story throughout the novel making the 400 pages pass by like a breeze.

Another other major plus with Nocturnal is the friendship between Clauser and Chang, they are a brilliant team and really manage to compliment each others differences. Chang is the charmer, friend to all and always ready with an off the cuff joke or smart observation while Clauser is more the brooding, quiet type who just gets the job done and has a great degree of focus. This level of characterisation is superb and the real highlight of the novel.

The pace is pretty relentless too, there is no wasted space or slow bits to the book at all and the action scenes are top notch, both somewhat explicit, fast paced and superbly thought out they are those rare events that actually do get your heart racing as you read them. This is not recommended for the younger reader, we are in adult only territory here.

I loved the detective theme to the novel, the plot is convoluted and twisted while the atmosphere really does promote a feeling of tense anticipation and genuine horror. The ending happens to be superb too, a fitting finale that really does leave you wanting more (I understand sequels are on the way).

Nocturnal is an exceptional horror novel that manages to entertain from beginning to end, recommended.
Written on 27th April 2012 by Ant .
You may also like