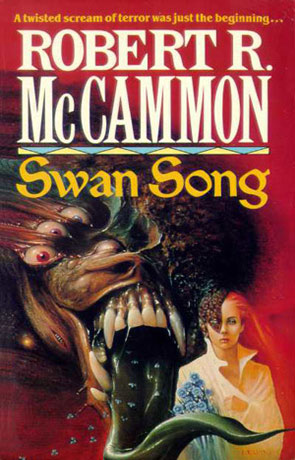 Book details
Swan Song

Publisher:

ISBN:

Published:

1987

Pages:

864

Format reviewed:

Paperback

Review date:

17/09/2002

Language:

English

Age Range:

N/A
About the author
Swan Song is a classic horror novel by Robert R McCammon.

Having seen endless recommendations for this book in the alt.books.stephen-king newsgroup, every time somebody asked for something similar to The Stand by Stephen King, I fearlessly grabbed it when I found a cheap used copy at my local book pusher.

The similarities to The Stand quickly become quite apparent. It's a big book – nearly a thousand pages, there's a humanly created catastrophe (nuclear war in this case, super flu in The Stand) that nearly kills everybody, there's a bad guy with supernatural powers, there are good people who tries to create a new and better world. But they are not the same, No, Sir! Where The Stand is more centred around Flagg and the problems he's creating, Swan Song is centred on the problems we have created for our selfs. Where there is plenty of resources in The Stand, there's nearly none in Swan Song and people have to fight just to get a drop of water. The different nature of the catastrophes creates different stories. If I had to name a winner, in the broad category of post-catastrophy stories, I would probably choose Swan Song.

The characters a quite a mixed bunch and most of them are quite likable or at least believable (when you ignore the super-natural bit). The gore, suffering and horror is at a moderate level, taken the nature of the story. The flow of the story is strong and will keep you turning those pages, the only weak bit is the break in the middle of the book. The ending is a bit like what you would expect from a story of this type, but it's very well done and it left me with a small lump in my throat. What more can you ask for?
Written on 17th September 2002 by TC .
You may also like