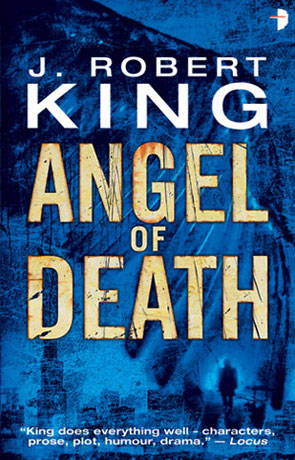 Book details
Angel of Death

Publisher:

ISBN:

Published:

Pages:

416

Format reviewed:

Paperback

Review date:

01/10/2009

Language:

English

Age Range:

N/A
About the author
Angel of Death is a contemporary fantasy / horror novel by author J Robert King.

The Angel of Death for Chicago overseas a an area that stretches from lake county Indiana to Milwaukee, a vast sprawl of a metropolis. His task is to ensure that each person's death matches their lives as closely as possible.

Most natural deaths fulfil this requirement however many murders do not, as such the Angel of Death finds himself following the serial killers very closely and guiding their hands in the murders.

Angel of Death is a very powerful novel, dealing intrinsically with life and death and the ugly side of murder. These subjects are handled very well, albeit without pulling any punches in the graphic descriptions. This is clearly an adult novel and this works to it's advantage, being able to describe events as needed.

There are a few notable times a novel has imprinted itself deeply on my mind, gaining an insight in difficult subject matter. The very rare occasions I can recall include "The incident of the dog at night-time" and "Lucky Man", it doesn't happen very often. This novel has now been added to that list as it sucks you inside the mind of a serial killer, as close as you ever really want to get to one.

Combining fantasy and horror with a crime novel, the story has been written intelligently enough to leave you wondering if the character really is an Angel or if he is actually a psychotic psychopath with delusions of grandure.

A very impressive, powerful story that grabs you, sucks you in, throws you around and dumps you out, dazed but richer for the ride.
Written on 1st October 2009 by Ant .
You may also like