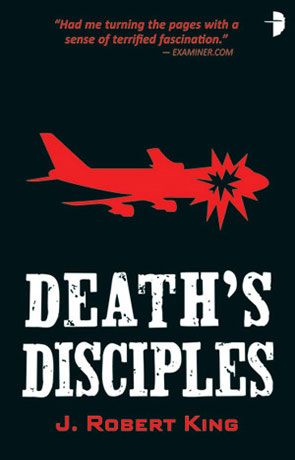 Book details
Death's Disciples

Publisher:

ISBN:

Published:

January 2011

Pages:

384

Format reviewed:

Paperback

Review date:

02/01/2011

Language:

English

Age Range:

N/A
About the author
Death's Disciples is a dark urban fantasy novel by J Robert King and published by Angry Robot Books.

When she woke up in the hospital, she could barely remember getting on the flight, let alone the terrorist bomb of that killed everyone else on board.

But she can hear the voices in her head, voices of the dead passengers. What they have to say, and what they need her to do, will truly tear her world apart.

This is the second novel I've read by J Robert King, the first was the most excellent Angel of Death, a very dark and powerful novel that leaves a permanent impression on one's psyche. Death's Disciples is no exception, although no where near as dark or horrific as the previous book it is in some ways all the more thought provoking by choosing to deal with the very sobering and always topical subject of Terrorism, at least on the surface.

The novel is mostly narrated from the first person perspective of the only survivor of the flight 311 plane crash that kills all the other 361 passengers, caused by the Terrorist group "Death's Disciples". Dubbed the 311 miracle by the press, she has total amnesia and has to rely on those she thinks she can trust and her instincts to keep her alive.

The plot itself is fantastic, full of twists and turns and plenty of surprises, it will keep you guessing right up to the end just what is going on and just who and what the Death's Disciples really are. The story is played out perfectly, with just the right amount of suspense, action and intrigue to ensure you are absolutely glued to the book. This is one story you can't walk away from and a book you just can't put down, be prepared that once you start reading you have to keep going till the tale has been told.

The use of amnesia for the principle protagonist is genius, allowing us to learn about her as she finds out herself, and what a character she is! with so many levels, each time we find out another detail complicates the plot and changes opinion about her. The prose is rich, the grammer faultless, there really isn't anything bad I can say about the novel. It's got everything, a bit of horror, a bit of fantasy, (quite) a bit of violence all wrapped up in a very sexy package.

Death's Disciples takes you hostage and won't let you go until the final curtain has played out, intelligent, creative, original and above wonderfully enjoyable, a better start to the year you will not find anywhere else.
Written on 2nd January 2011 by Ant .
You may also like