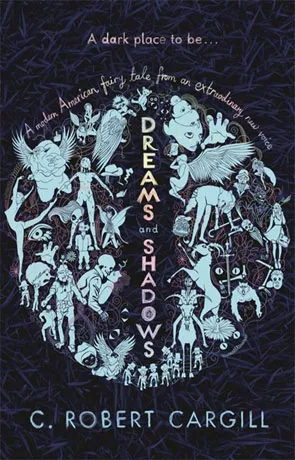 Book details
Dreams and Shadows

Publisher:

ISBN:

9780575130098

Published:

February 2013

Pages:

416

Format reviewed:

Hardback

Review date:

26/03/2013

Language:

English

Age Range:

N/A
About the author
Dreams and Shadows is a contemporary urban fantasy fairytale which tells the story of two young boys Ewan and Colby who both become embroiled in the secret world of the Limestone Kingdom - a parallel world where Wizards and Genie's co-inhabit with creatures much older and largely forgotten. Ewan and Colby soon discover that although you can leave that otherworldly realm, the inhabitants are not so quick to forget, or forgive.
There is a dark edge to Dreams and Shadows that in places borders on horror - a rawness that is distinctly adult in nature and not for the younger reader. This is emphasized by the superbly crafted narrative and imaginative, in-depth world-building which helps to creative a very strong sense of immersion - something that extends to the characters and the wonderfully fleshed out fairies, nixies and Sidhe (to name a few). The real world feels very solid and, well, real while the supernatural is richly detailed; a combination of folklore, myth and imagination that makes an effective counterpoint to reality. To counter all this there is a fresh humor that lifts what could have been a very dark tale, it's very effective and helps to create a sense of an almost Brothers Grimm style traditional fairy tale.
There is a lot to like about this book, the pacing is just about right, the world-building doesn't drag the book down or interfere with the plot (for most of the time at least) and there are some genuinely different touches that help to create a powerful vision of the Fae. This even includes a link to Hell and a few of it's many minions and it's a touch of genius that the author manages to merge these two myths together and make it work.
The book moves perspectives from chapter to chapter and this is handled well, never resulting in disorientation, breaking the story up quite effectively. As with many of the best novel's, Dreams and Shadows examines humanity - the imperfections and the tenacity of the human spirit. Also like many books the ending is a little abrupt but none-the-less pretty satisfying and perfectly fitting.
Imaginative, alluring with astoundingly enhancing writing, if you are a fan of urban fantasy or contemporary fairy tales Dreams and Shadows will blow your socks off.
Written on 26th March 2013 by Ant .
You may also like