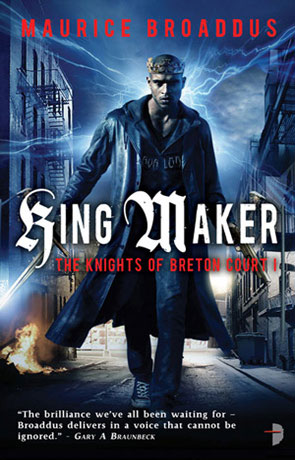 Book details
Books in the series
About the author
King Maker is an Urban fantasy novel by Maurice Broaddus, retelling the the ancient Arthurian legend through lives of Indianapolis street gangs and the first in "The knights of Breton Court" series.

The story involves the principal character of King, son of Luther and destined to try and unite the factions that run the streets around Breton Court. Woven into this tale of street gangs, drugs and crime is a very modern interpretation of the Authorian legend.

King Maker is a gritty, brutal and compelling slice of life on the streets of Indianapolis, with a large cast and following multiple story angles. This makes the novel not so much difficult to read more than one you really have to pay attention to, this isn't one of those novels you can skim a few pages and only drift your eyes through, this book demands your complete and undivided.

The novel itself isn't so much a story but more an episode in the life of people living in a ghetto, with an intelligent script and a realistic take on Gang culture, the language and those people that fall through the cracks of society (for whatever reason). This does inevitably include some graphic violence, drug use and sex but it wouldn't really be very realistic without it (and there is no gratuitous use). Maurice Broaddus manages to completely immerse the reader into this dangerous (under)world and then cleverly weaves the Authorian tale into the plot. The characters are easy to note, Luther (Uther) is the father of King (Arthur) while players like Lott (Lancelot), Merle (Merlin), Lady G (Lady Guineve) and others all dance around Kings path.

I am a big fan of King Arthur, The Once and Future King, Le Morte d'Arthur and the tales around this irrepressible legend with my favorite having always been Merlin, and Merle is fantastically portrayed as a quite crazy tinfoil hat wearing soothsayer who's friendship with "sir Rupert" is amongst the highlights of the book.

It would be wrong of me to say "I liked this book" in the same way it would be wrong to say "I like drugs / gang warfare" due to the very nature of the subject matter but in my mind a book like this isn't there to be "liked", it's there to be consumed, appreciated, inwardly digested and above all to make you think, to open your perceptions. For this reason this book is a triumph, I can honestly say that this novel has made me think about the world and people around me more than any other book has for a long time.

Maurice Broaddus has created a masterpiece of original, compelling and thought provoking drama, irresistible and unforgettable.
Written on 10th March 2010 by Ant .
You may also like