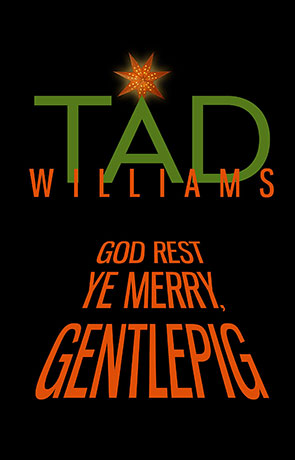 Book details
God rest ye merry Gentlepig

Publisher:

ISBN:

B00PAYYC64

Published:

December 2014

Pages:

49

Format reviewed:

E Book

Review date:

24/12/2015

Language:

English

Age Range:

N/A
About the author
I meant to read this festive novella last year however time got the better of me (as it often does). God rest ye merry Gentlepig is a festive tale featuring the angel Bobby Dollar who acts as an advocate for souls sitting in judgement after death.
And so on Christmas Eve night he is summoned to act in defence of a man who seems hell-bent on going to that hotter and noiser afterlife. His charge is a werewolf whos family are victims of Nazi war crimes, crimes that still seem to be taking place. To clear things up and hopefully bring some seasonal cheer Angelic Judge Ambriel gives Bobby Dollar until Christmas Morning to investigate.
I like the fact that the author has kept this story brief, it's short enough to easily read in one evening and perfect for the run up to Christmas for anyone who like me begins to have a very limited amount of time to read.
I like Bobby Dollar, Williams manages to get the humour that frequents the best urban fantasy storys and his take on the sub genre — Bobby being an Angel trying to help the dead get into heaven — is inventive and different enough to stand out. His style as a hard-boiled detective works well. One of the best lines is right at the start when Bobby defends his client to the Angelic Judge with the line:
Everyone makes mistakes, and some of us accidentally eat a few people...
The Gentlepig refers to Bobby's friend George Noceda (known as Fatback) who just happens to be a were-pig who helps Bobby investigate an ex-nazi mad scientist who is using werewolf genes to fuel his macabre experiments.
It's a great little story, fast and efficient and full of fun, worth a read whether you know Bobby or not.
Written on 24th December 2015 by Ant .
You may also like