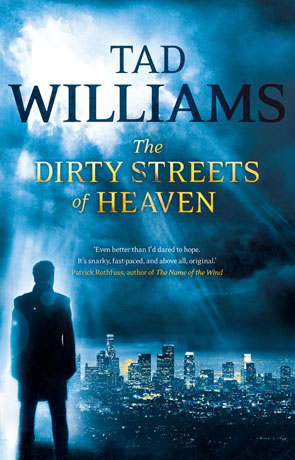 Book details
The Dirty Streets of Heaven

Publisher:

ISBN:

978-1444738551

Published:

September 2012

Pages:

416

Format reviewed:

Hardback

Review date:

16/07/2012

Language:

English

Age Range:

N/A
About the author
For me Tad Williams sits right up there with the very best fantasy story-tellers, I read his Memory, Sorrow, and Thorn series many years ago and it still ranks as one of the most memorable fantasy series, even after all that time. If you haven't read the series and are a fan of the fantastic then I seriously urge you to check it out, you won't be disappointed.
The Dirty Streets of Heaven is Williams attempt to a create a more main stream, urban fantasy series that still retains that magic, mystery and mystique that made his high fantasy series so memorable.
The story begins with us being introduced to "Bobby Dollar", a real angel whose job is to act as an advocate for souls sitting in judgement after departing the physical plane. Even though he's an angel, he isn't exactly a saint and knows a great deal about sin, having to wrestle with pride, anger and even lust when taking on a physical body. The realm outside of mortality isn't that black and white either; he can't really trust his heavenly superiors, has a trainee angel who asks too many questions and rings a few too many alarm bells and the only one that actually seems to be totally straight with him is the achingly gorgeous Countess of Cold Hands, a member of the opposition.
When souls of the recently departed begin disappearing before being judged things go from bad to worse, bobby finds himself caught between the fiery forces of hell, the portentous hosts of heaven and a monstrous undead avenger that wants to rip his head off and suck out his soul.
The Dirty Streets of Heaven feels very different to any of the authors previous novels, there is still the unmistakable Willams voice that colours the narrative however this is joined with a modern, urban edge and styled to a supernatural police procedural, detective theme. While this genre a rapidly growing one, many of which have jumped onto the vampire / werewolf / teen-angst bandwagon, Williams goes in a completely different direction that is not only quite original but pretty refreshing too.
Here we have a modern take on the whole heaven and hell idea and the author does a brilliant job of describing the heavenly host and it's angelic agents, set within an urban fantasy detective backdrop. I love how the author explains the way this afterlife works, it makes a great deal of sense and really pits the agents of heaven and hell against each other in competition for these departed souls.
Even better though is the actual story, narrated in the first person by our reluctant, angelic hero Bobby Dollar - which helps to create that detective ambience - we are treated to a twisting tale which greys the edges between good and bad and offers a plot that manages to keep the reader on their toes, although I did manage to guess what was going on before Bobby did. The story is broken up with some great action scenes and effective character building.
Williams has managed to create something really special with The Dirty Streets of Heaven that manages to breathe new life into the urban fantasy genre while at the same time retaining that magic of his earlier novels, an incredible start to a promising series.
Written on 16th July 2012 by Ant .
You may also like