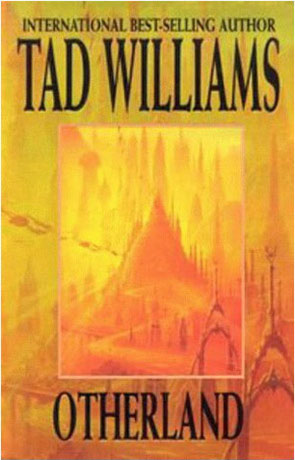 Book details
City of Golden Shadow

Series:

Otherland

Publisher:

ISBN:

Published:

1996

Pages:

770

Format reviewed:

Paperback

Review date:

01/10/1999

Language:

English

Age Range:

N/A
Books in the series
About the author
City of Golden Shadow is the first volume in Tad Williams Otherland series.

Eight hundred pages in a rather small font and only the first in a series. This somewhat ups the stakes when one has to decide whether to recommend a book or not. It's so easy when a series is so clearly good (like Nights Dawn by Hamilton) or when it's clearly bad (and I luckily can't think of any real stinkers off the top of my head).

With Otherland it's a bit harder. While I can't put my finger on any real faults in the book, I can't point to anything really fantastic or amazing in it either. The ideas are interesting (but not new). The characters are nice and deep enough that I care about them, but I couldn't really identify with them. The plot is interesting, but not gripping. The background milieu is fairly detailed and interesting, but not interesting in and of itself. I guess that you are getting the picture here. The really hard question is whether the book is worth reading or not, I'm really not sure because the book has one more problem; the plot never really takes off until the very end. It's like long foreplay, which can be good, but when you have to wait several months before getting to the really steamy parts, the foreplay has to be a bit more than just good to keep the memory alive or the steamy parts (that's volume II) have to be really, really hot. I better stop with this metaphor before I get in to deep.

Anyway Otherland is interesting enough and well written enough that I'll look around for Volume II (River of Blue Fire) when it comes out in paperback next year.

Otherland takes place half in South Africa and half in some kind of virtual space (and the word cyber isn't used once which is a big plus). Irene's little brother goes into a coma after some weird experiences on the net and Irene starts to investigate – suddenly she is followed and people are trying to kill her, maybe things are just a bit more complicated than a young boy overdosing on net-usage.

P.S. Since finishing the review I've read other reviews of Otherland and people tend to be a lot more enthusiastic about it than I am (to put it mildly). I'm not sure why that is, but it may have something to do with the fact that Williams normally writes fantasy (as far as I understand – I haven't read anything else by him), and his usual fans are fairly new to the ideas that he presents, while "normal" SF fans will have seen a lot of it before.
Written on 1st October 1999 by TC .
You may also like