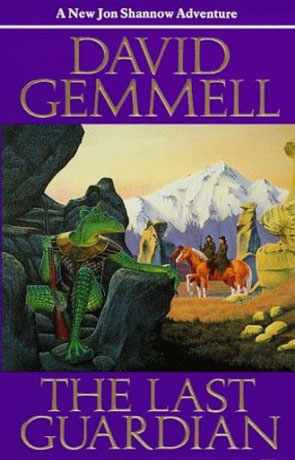 Book details
The Last Guardian

Series:

Jon Shannow Series

Publisher:

ISBN:

Published:

April 1990

Pages:

288

Format reviewed:

Paperback

Review date:

20/01/2010

Language:

English

Age Range:

N/A
Books in the series
About the author
The Last Guardian is the second novel in the Jon Shannow series, written by David Gemmell.

300 years after the Apocalypse that has torn the earth apart, humanity is reduced to pockets of suvivors living amongst a waste torn land, stalked by mutants and much much worse. While the Earth quaked, a deadly power burst forth from ancient Atlantis. For the gate of time had been torn open, freeing a cataclysmic evil.

Only the last guardian, Jon Shannow, the legendary pistoleer, could shut the deadly portal. But to accomplish this he would have to find the shining Sword of God, said to be floating among the clouds in the perilous lands beyond the wall, where beasts walked like men and worship a dark goddess. As Shannow embarks on his impossible quest, demons gather in wait.

After defeating Abaddon and the Guardians in Wolf in Shadow, Jon Shannow continues his eternal search for Jerusalem, a mission that takes him to unexpected places and embroils him in an effort to shut the portal from the Daemon spawn.

The Last Guardian, and the Jon Shannow series are exceptional novels with the perfect mix of back story, character development, and action. Along with Wolf in Shadow and Bloodmoon, this novel is one of the finest pieces of literature I have had the honour of reading and has never recieved the acclaim it deserves.
Written on 20th January 2010 by Ant .
You may also like