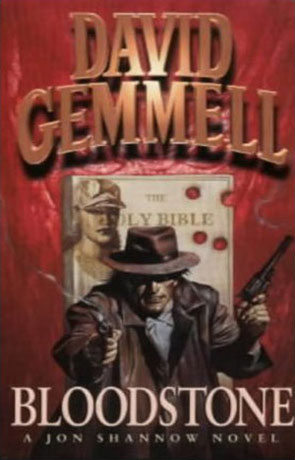 Book details
Bloodstone

Series:

Jon Shannow Series

Publisher:

ISBN:

Published:

February 1995

Pages:

304

Format reviewed:

Paperback

Review date:

18/02/2010

Language:

English

Age Range:

N/A
Books in the series
About the author
Bloodstone is the third novel in the Jon Shannow series written by David Gemmell and follows the events in Wolf in Shadow and the Last Guardian.

More than 300 years after the world was split by the Apocalypse and the earth is a wasteland with pockets of humanity clinging to survival.

The Jerusalem Man has long vanished and is now considered a saint of a new religious order that controls the land, to speak ill of his memory is considered heresy.

The church is controlled by a tyrannical Deacon and his Jerusalem riders, spreading bigotry and hatred with Unbelievers and Mutants are massacred in the name of God and Peace.

When the church at Pilgrim's Valley is destroyed and its congregation massacred, a rider appeared and hunts down those responsible. Word quickly spreads, the Jerusalem Man has returned!

Jon Shannow must face the forces of the Deacon, but a darker power lurks behind the order, a god who feeds on the souls of worlds.

David Gemmell completes the trilogy with his usual style and grace, again I believe this to be Davids best work, and Jon Shannow a fantastic character. Bloodstone is worth reading, again and again.
Written on 18th February 2010 by Ant .
You may also like