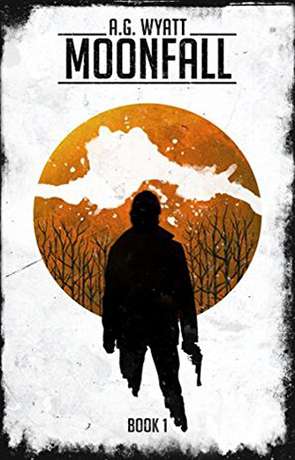 Book details
MoonFall

Publisher:

ISBN:

B00R6UT2G0

Published:

December 2014

Pages:

217

Format reviewed:

E Book

Review date:

21/09/2015

Language:

English

Age Range:

18-
While most post-apocalyptic novels focus on destruction brought on humankind (or occasionally robotkind), the disaster in Moonfall is much more natural. The Moon has indeed fallen and caused widespread destruction across the globe. The book picks up 20 years after this earth-shattering event and follows lone survivor Noah who trudges through the wasteland trying to avoid what humanity has now become.
Perhaps ineviatably he is caught and drawn into a conflict between two rival gangs, forced into a choice between his freedom and saving the last spark of civilisation.
The story dives straight into following Noah's journey with little time spent on backstory or exposition and as a result its quick to become engrosed into this one mans struggle for survival. It paints a grim picture filled with believe-able, flawed characters — although the bad-guys seem a little typecast. Noah is a like-able soul, far from the brave hero many books would place as a central protagonist.
Its a fun, solid but predictable story and a well-written one at that with an engaging narrative structure and a fast enough plot that manages to make you forget that your not reading something that hasn't been written a thousand times before. I do wish the author had done more with the type of disaster, it is one of the few original elements and yet is vaguely placed in the background, not even used as a plot device or described in any real detail.
I did enjoy the book, its an easy, quick read and genuinely engaging despite its lack of originality — the author is clearly a gifted writer and I'd be quite happy to read more but I do hope next time they push things and move outside that comfort zone that Moonfall falls into.
A good, solid, engaging post-apocalyptic story, just don't expect anything earth-shattering.
Written on 21st September 2015 by Ant .
You may also like