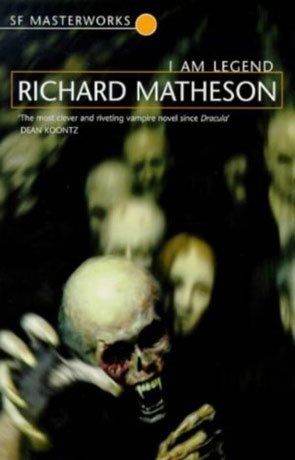 Book details
I am Legend

Publisher:

ISBN:

9781857988093

Published:

1954

Pages:

162

Format reviewed:

Hardback

Review date:

03/04/2011

Language:

English

Age Range:

N/A
Awards won
I am Legend is a post apocalyptic vision by Richard Matheson, created in 1954 it tells the story of Robert Neville, the last surviving human in the world, surrounded by bloodthirsty vampires - both living and undead. Part of the Gollancz SF Masterworks collection, the novel has received critical acclaim from many authors including Stephen King, Dean Koontz, Brian Lumley and Ray Bradbury.

In many ways this novel has been seen as the catalyst that re-invigorated the tired and dying genre that was horror of the 1950's, re-engineering a well known horror subject and yet written in a mainstream almost literary voice. It is widely regarded as being a major influence of the zombie genre and popularized the concept of a worldwide disease apocalypse.

The novel has been made into films on a number of occasions including "The Last Man on Earth" starring Vincent Price and filmed in 1964, "The Omega Man" starring Charlton Heston and released in 1971 and more recently "I am Legend" in 2007, starring Will Smith. It was actually the later film that encouraged me to buy the novel, I loved the film and although I realise it is vastly different to the book (as most films based on novel's are), it is in my opinion a very powerful and gripping movie.

Blending aspects of horror within a science fiction setting, the book is based in the relative future of 1976 but apart from the date there are no other science fiction tropes used. The Vampires portayed here are very different to the Dracula style Romantic shape shifting types, here they are virus stricken hosts (in both alive and undead varieties) who mostly behave in a subhuman manner and on many occasions could be mistaken for a modern interpretation of a zombie.

There is a strong literary feel to the novel without most of the trappings of science fiction and we learn about the daily life of the last man in the world, fighting to stay alive and surrounded by the undead hordes. It's not really a very scary horror novel either and doesn't feature graphic or disturbing scenes, as such it would be a suitable for most audiences from a young adult age upwards (I have certainly read more graphic scenes in many young adult novels).

Robert Neville is very much an average kind of guy doing his best to survive and constantly haunted by the memories of his late wife and daughter and the very real presence of his ex work colleague and neighbour. There is a very intelligent if simplistic attempt to give a rational and scientific argument to the vampire curse, even down to why a stake through the heart kills them. This gives rise to the spore infection theory that has since become popularised in the later zombie books and films.

The novel is very much an exploration on the nature of humanity, more specifically the aspect of human loneliness along with the pressure this put's upon ones sanity. The prose is elegantly written in a clean, crisp style that immediately engages the reader and I haven't read anything that quite manages to capture the essence of solitude and an insight into just what it is to be human. Underplaying this is also a message about race and racism, something that becomes more prominent at the end of the novel. It's not a very long novel, at only 162 pages it's only just passed novella size but there is little space wasted, Matheson manages to suck the reader in and allows them to become an observer of Neville's life, which is mostly poignant but with the occasional subtle tongue in cheek humour that prevents the story from becoming too morbid.

As regular readers will know, I am a big fan of post-apocalyptic fiction and this is one of the most insightful I have read, over 50 years old and I am amazed at how well it's aged, apart from the obvious lack of mobile phones and internet technology - which wouldn't work anyway in a post apocalyptic world without people or an electricity grid, this novel could have been written last week and it's a sign of the authors talent and vision that he managed to avoid dating the story by placing his current technology or attempt to predict the technology of the future (our relative past).

I am Legend is one of the best examples you will find that manages to encapsulate the meaning of loneliness and the resultant loss of self, simply incredible.
Written on 3rd April 2011 by Ant .
You may also like