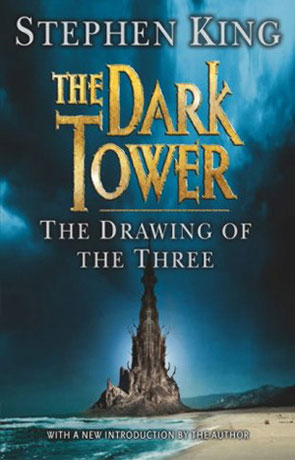 Book details
The Drawing of the Three

Series:

The Dark Tower

Publisher:

ISBN:

9780340829769

Published:

May 1987

Pages:

496

Format reviewed:

Paperback

Review date:

04/01/2000

Language:

English

Age Range:

N/A
Books in the series
Song of Susannah
The Dark Tower
About the author
Do not read this review if you have not read the The Gunslinger - it contains spoilers for it.
The Drawing of the Three (or DT2) takes off where The Gunslinger ended, with Roland lying on the beach of the western sea. The book tells the tale of Roland as he journeys along this beach and draws "the three" from our world. As you may remember the man in black mentioned these - The Prisoner, The Lady of Shadows and Death. Most of the book is about Roland and The Prisoner - Eddie Dean a New York heroin junkie, with not one, but two monkeys on his back.
DT2 is different from DT1 - some of the loneliness and desolation is gone as Roland's party gets bigger (not all of it - King still does a great job of getting the desolation and emptiness of Roland's world to shine through). There's a bit more action and a bit faster pace - I'm not saying that it has better timing than DT1, just that the flow is faster and the storyline is a bit tighter. The thing that I love the most about this book is Roland's journeys to our world; His wonder and awe and his dry observations about laziness and people's inability to see.
If you liked DT1 but found it a little slow, you will probably love this one. If you loved DT1 and thought that it was the best book that you have ever read, you will probably find DT2 a little lacking in style but other than that I'm pretty sure you won't be disappointed.
And again we move closer to the Dark Tower!
Written on 4th January 2000 by TC .
You may also like